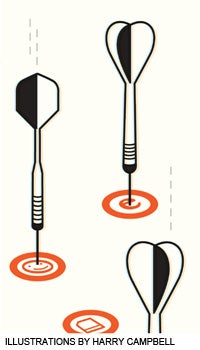 With these 13 terrific Websites and online services, you can make travel arrangements, dig up discounts and unusual gifts, decide on a great restaurant, or whip up amazing meals of your own.
For more on the year's top sites, see "The Web's Best Productivity Sites" and "The Web's Best Entertainment Sites."
Travel
Great travel sites are a lot like great travel destinations: There's an ideal place for everyone. Our all-around favorite travel assistant, Kayak (free), lets you punch in any destination, and then it launches multiple searches on all of the major travel sites at once so that you can compare fares quickly. The only drawback is that it clutters up your PC's desktop with little windows for all the search results.
If you want to retrieve just the best airfare for your upcoming excursion, Hipmunk (free) searches all the major airlines simultaneously and presents the results in an intuitive timeline format that shows you fares, layovers, connections, and airlines at a glance.
For excellent customer service on flights, hotels, and travel packages, Hotels.com (free) can't be beat. The site has won our trust with dependable, friendly 24-hour phone assistance.
Of course, not everyone wants to stay in a hotel when they travel. If you're looking to rent a ski cabin this winter or you want to check out beach houses for a summer getaway, turn to Vacation Rentals By Owner, aka VRBO (free). With VRBO, you deal directly with the property owners–but the site takes most of the guesswork out of renting a house for your holiday by offering user reviews from people who actually stayed in the rentals, and providing in-depth reviews when one of the site's employees has stayed there. Best of all, the site backs you up with $10,000 in rental protection in the event that the property owner rips you off.
Shopping
You already know that Amazon sells darn near everything you could ever want. But if you're hoping to nab stuff at deep discounts, you'll need to do a little surfing. Groupon (free) uses the power of numbers to present outrageous discounts on products and services available in your local area. When enough people commit to buying, the deal is on.
For used stuff in your region, Craigslist (free) remains the go-to site. If you know how to browse classified ads, you know how to find bargains–not to mention amazing free stuff–on Craigslist.
Getting a good deal from a reliable contractor is often more difficult than it should be. Angie's List ($29 per year) provides reviews and ratings of contractors and service providers in your area, written by people who have actually used them. Think of the site as the Consumer Reports of home services. Angie's List is entirely supported by its user fees, so the site doesn't take any money from the companies and contractors it rates.
If you're looking for something unique, Etsy (free) has thousands of cool, handmade, and vintage things for sale. If you're not in the market for a macramé iPhone cozy, digging up the really good stuff can take some time. But Etsy rewards those visitors who make the effort to search.
Dining

Eating out gets expensive, so you don't want to take chances on mediocre restaurants. Yelp (free) remains the number one site for finding good dining just about anywhere on earth. The site's iPhone and Android apps make it easy to locate highly rated spots in your vicinity right away, and they let you quickly gather tips on what to order when you arrive.
Don't waste time calling every restaurant in town to secure a reservation for your next date night or business lunch. OpenTable can save you a spot at 15,000 restaurants around the world, for free. When you're traveling, use OpenTable's free iPhone or Android app to book a confirmed reservation instantly and effortlessly, even from a taxi.
Cooking
With all the great food sites popping up on the Web, it's a wonder that anyone sells paper cookbooks anymore. The tastiest site we know of is Allrecipes.com, a community-driven site that gathers recipes from home chefs around the world into one massive catalog of cookery. Vegan? No problem. Wondering what to do with a pound of octopus? You have plenty of options. Other home cooks on the site rate and review the recipes, so you can see what everyone thought before you turn on the burner. And you can print out the instructions to fit in just about any recipe-card box.
Serious and aspiring gourmands would be remiss in passing up Epicurious (free). A site curated by the editors of Bon Appetit and Gourmet magazines, Epicurious sizzles with comprehensive cooking guides, a wide assortment of recipes from top chefs, and step-by-step videos that skillfully show you how to cook like the pros do.
Need to make dinner fast without running out to the store? FoodPair (free) gives you tons of recipe options based on the ingredients you happen to have on hand. Terrific meal ideas are just a quick search away.