Ten years after it launched its first tablet PC, Microsoft is still struggling to come up with a hit product in the category. On the opposite side of the spectrum, Apple managed to sell more than 7 million iPads in just a few months. But Microsoft is planning a comeback next month, when it will introduce a bunch of new slate computers, according to a New York Times report.
In January this year, Microsoft CEO Steve Ballmer took to the stage to introduce a new generation of Windows-based tablet computers. The HP Slate 500 that Ballmer showed off was widely seen as a disappointment; it finally materialized in October and quickly fizzled out. Unconfirmed reports say that HP only made 5,000 of them initially, and got orders for 9,000 devices. In comparison, Apple sold more than 300,000 iPads on day one only.
The Times says Ballmer will introduce Windows 7 tablets, this time built by Samsung and Dell, which, unsurprisingly, are described as similar in size and shape to the Apple iPad, though not as thin. One of them is also reported to include a slide-out hardware QWERTY keyboard.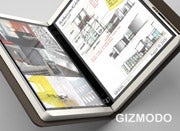 So, can Windows 7 tablets compete with the sleek iPad? HP's initial effort included extra features like two cameras and USB and memory card reader ports, but the $800 price tag, $300 more than the cheapest iPad, put many off. Samsung didn't manage to beat Apple on price with its Galaxy Tab Android tablet either, which is smaller and has two cameras, yet is more expensive compared to the cheapest iPad as well.
Then there's the fact that Windows 7 is still a point-and-click designed operating system, unlike Apple's iOS, which was built from ground up with touch use in mind. Microsoft is said to address this issue by creating a layered interface for Windows 7 when the tablet is held in portrait mode, yet this still does not sound as a touch-designed OS, but rather more like patch work.
If the Times report proves accurate, Microsoft won't have an application store for its Windows 7 tablets either, dismissing the successfully established model of the Apple App Store and even Android Market. Finally, hardware manufactures also had trouble matching the more than 10 hours of battery life of the iPad, which by using a resource-hungry OS like Windows 7, will again prove hard to achieve.
So far, Microsoft's chance to become competitive in the tablet market is to port its acclaimed Windows Phone 7 mobile operating system to larger screens. Besides the fresh user interface, Windows Phone 7 tablets could use less battery juice (hence have longer battery life), have an app store, and be touch-optimized. Unfortunately, Microsoft does not look like it is heading in that direction at the moment (unless Ballmer has a surprise in store for everyone).
Your best bet right now would be an iPad (or, if you can wait for the reportedly thinner iPad 2 with dual cameras), a BlackBerry PlayBook or a new Google Android 3.0 powered tablets from the likes of Motorola.
Follow Daniel Ionescu and Today@PCWorld on Twitter