Seagate has introduced a new high-speed, eco-friendly hard drive for low-power personal computers. The 3.5-inch desktop drive spins at 5900 RPM and includes the company's SmartAlign technology.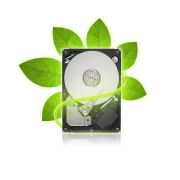 SmartAlign allows the drive to be configured with the new 4K sector standard with minimum human intervention. The 4K Advanced Format standard allows disk makers to not only pack more data on drives, but to support strong error correction.
Configuring a system to use 4K, however, can be complex and requires additional integration steps and installation of software utilities. SmartAlign simplifies that process, making it virtually invisible to users, according to Seagate.
Seventy percent of the materials in the new Barracuda drives can be recycled. In addition, the units use components low in halogen to reduce the impact of that substance on the environment. The cool-running, whisper-quiet drives also have a super-low power consumption design that reduces the energy costs for operating the drive by 50 percent compared to the cost of standard desktop drives, as well as a 6Gb/s interface and 64MB cache.
Three capacities for the model are offered by Seagate: 1TB, 1.5TB and 2TB. No pricing was immediately announced by the company.