Time to add a new service to the "cool but creepy" category. Google announced that Android phones can now learn the sound of your voice for more accurate voice searches.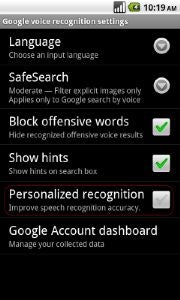 Personalized recognition is an opt-in service for Android versions 2.2 and higher. Once you give the go-ahead, Google begins recording voice searches and using the data to build a speech model just for you. "Although subtle, accuracy improvements begin fairly quickly and will build over time," says the Google Mobile blog.
Google is quite mindful of the potential to creep people out by remembering their voices. The company stresses that it "takes your privacy seriously" and explains that if you want Google to forget what it learned, you can switch off personalized voice recognition through the "Speech" section of Google Dashboard. A new privacy initiative was one reason that federal regulators let Google off the hook for accidentally collecting private data through its Street View cars.
Perhaps personalized recognition is the kind of trade-off to which Google alluded when it abandoned 1-800-GOOG-411, a free directory service, in October. "Our success (with voice recognition) encouraged us to aim for more innovation," the company wrote at the time. "Thus, we're putting all of our resources into speech-enabling the next generation of Google products and services across a multitude of languages."
Elsewhere, GOOG-411's users blasted me for suggesting that the trade-off was worthwhile. Personally, I'd rather see Google focus its resources on better voice recognition in smartphones than continue to support a service that will ultimately become outdated, especially when similar services such as 1-800-FREE-411 still exist.
Then again, I'm not easily spooked by a Web service that remembers what you sound like.