Sorry Julian Assange, but Time magazine's Person of the Year is Mark Zuckerberg, founder of Facebook.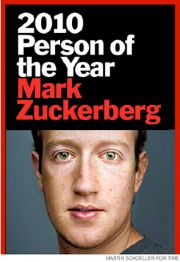 Wait, what? A week ago, Assange, founder of WikiLeaks, seemed like a shoe-in. The editors had already made up their minds, sources told the Drudge Report. Even Time's readers came down on Assange's side, picking him for Person of the Year in a popular vote that ended this week. Zuckerberg finished 10th in the reader poll.
Here's how Time defended its choice of Zuckerberg for Person of the Year:
"Facebook has merged with the social fabric of American life, and not just American but human life: nearly half of all Americans have a Facebook account, but 70% of Facebook users live outside the U.S. It's a permanent fact of our global social reality. We have entered the Facebook age, and Mark Zuckerberg is the man who brought us here."
Assange's Wikileaks, by comparison, has made few friends in high places. This year, the site released a video of a U.S. helicopter shooting and killing civilians in Baghdad, including one Reuters journalist, who at the time were believed to be insurgents. The site also delivered U.S. military logs of the war in Afghanistan to several major newspapers, documenting undisclosed civilian casualties, alleged support of the Taliban by Pakistan and the United States' general failure to win hearts and minds in the country. Finally, WikiLeaks began releasing a quarter-million American diplomatic cables, making public the backroom dealings of world leaders.
Assange had his share of controversy as well. A week ago, U.K. police arrested him on counts of unlawful coercion, sexual molestation and rape, following an incident with two women in Sweden in August. Assange claims that the relations were consensual.
So essentially, Time's decision came down to this: Pick the man whose work brought together more than 500 million people, or the man whose work exposed dirty secrets and sent governments into panic mode. Time choose warm and fuzzy.
Already, Time's comment section is filled with backlash and speculation that the magazine wimped out.
"I had a feeling Time would cave in to the pressure from the US government," Alex Yasinskiy wrote. "Anyone who thinks that journalism is not censored is in denial. Time magazine, you disgust me."
"TIME magazine = Fail of the Year 2010," wrote Jan Himmighofen — from a Facebook account.
Yeah, I probably would've picked Assange as well, but ultimately, Time's decision isn't going to stop WikiLeaks from doing what it does, and that's what really matters. As for Zuckerberg? Well, he's a better choice than You.