At a Glance
Expert's Rating
Pros
Onboard DVD burner and SSD
Great performance, ergonomics, and looks
Our Verdict
It doesn't get any better–or more expensive–than this slightly-larger-than-average ultraportable laptop.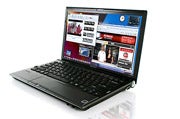 Sony's VPCZ137GX balances portability, ergonomics, and performance in a way that's hard to beat. It's not quite as light or as small as the average ultraportable, but it offers a 13.1-inch, 1600-by-900-pixel display, great ergonomics, and an onboard DVD burner. On the other hand, it's smaller and lighter than a typical all-purpose 14- or 15-inch laptop. And finally, it looks great and performs superbly.
The downside is price: The VPCZ137GX costs a whopping $2300.
One reason for the high sticker price is a 256GB solid-state drive. This expensive component gives the installed 64-bit Windows 7 operating system a snappy feel that a standard rotating hard disk can't match, even when aided by a CPU faster than the VPCZ137GX's highly competent 2.53GHz Intel Core i5 460M. Sony also provides 4GB of 1066MHz DDR3 system memory and a discrete Nvidia GeForce GT 330M GPU with 1GB of video memory.
On our WorldBench 6 test suite, the ultraportable earned an excellent mark of 118, as well as fantastic frame rates in our reference games. 1080p HD video played smoothly on the gorgeous display and the audio was surprisingly clear and spacious sounding. Bass was lacking, but that's common in laptops.
Better yet, battery life hardly suffers at all from the great performance. The VPCZ137GX lasted 6 hours, 20 minutes in our rundown test.
Even with the DVD burner on board, Sony offers lots of ports: three USB 2.0 (sorry, no USB 3.0), both VGA and HDMI, and gigabit ethernet. You also get Bluetooth and N-wireless, Sony's Share My Connection software (for sharing a broadband connection with five other users), Memory Stick MagicGate and SD memory card slots, and microphone and headphone jacks. The VPCZ137GX lacks eSATA and Sony I.link (four-pin FireWire) jacks.
The Webcam tops out at 640-by-480-resolution video. Sony also provides a handy three-way button at the top left of the unit so you can switch the power scheme among three modes: speed, stamina, and auto.
The VPCZ137GX's backlit, Chiclet-style keyboard resembles the ones on the MacBook Air and Toshiba M645, but unlike with those units, the backlight leaking from around the keys isn't distracting at any angle. The keyboard has a nice firm feel, and the touchpad is well-tuned.
The VPCZ137GX weighs in at just over 3 pounds and measures 11.4 by 1.3 by 8.3 inches. However, its larger size makes it a better laptop to use. During my hands-on testing, I never got the feeling that Sony had sacrificed functionality for portability.
Sony loads its VAIO laptops with software. Many of the programs are branded utilities that duplicate Windows 7 functionality, but some–like the Wi-Fi hotspot utility and ArcSoft's WebCam Companion 3–extend the laptop's capabilities. You also get trial versions of Microsoft Office 2010 and Norton Internet Security, which will cover you until you install your own software.
If I could have kept any laptop that came through the PCWorld test center in the past year, this model would be my choice. My only quibbles are the lack of USB 3.0 and the availability of Blu-ray only at twice the price in a signature series model.