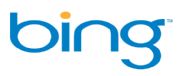 Microsoft announced a set of updates to its Bing search engine Wednesday, among them changes to the way search results are presented, enhancements to its "social search" capabilities, and some cool additions to its mobile app for Android and iPhone.
Microsoft is putting an impressive amount of manpower, time and money into adding new user-facing tools and features to Bing to give people a reason to break their Google habit.
Microsoft says that the quality of its searches, or the search's ability to return the results you want, is "about neck and neck" with Google. The company thinks Bing can best compete with Google by the way it organizes different types of search results on the page. "The science behind our visual placement is where we are spending a large part of our energy today," says Satya Nadella, VP of R&D in Microsoft's online services division. "We have a much different mix of results than Google."
Perhaps the main theme behind all the new functionality is the intent to deliver actionable – not just informational – search results that actually help people get things done. Some examples: For travel searches, Bing pre-populates a fare finder app in the search results based on the cities and flight times in the search query. Bing now returns show profile and video results for TV show searches. The search engine returns an organized set of reviews from sites like Yelp and Open Table for restaurant searches, along with a link to Open Table to make a reservation. The same approach is taken for movie searches, including a one-click option for purchasing movie tickets. Bing TV now shows a profile page for a show that includes a link to the most recent episode of the show in Bing Video.
Social Search Enhancements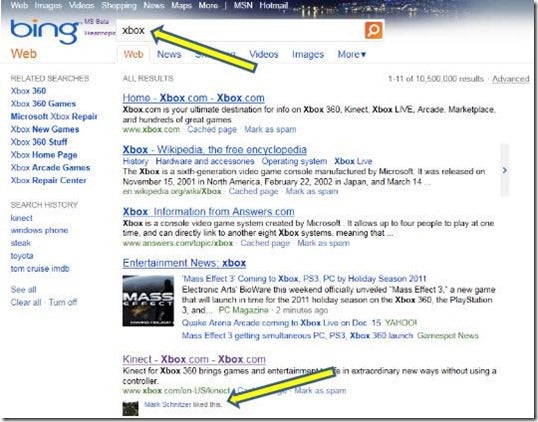 Microsoft wants your friends, and the interests of your friends, to help influence and organize your search results. If one or more of your friends has Facebook "liked" a particular search result, this result might come up higher in your search results. So, if you search for "fitness," an article that one of your friends liked might show up high in the search results, with a thumbnail of your friend's Facebook picture underneath.
People searches also get a social twist. When Bing recognizes that you are searching for a person, it consults your social connections when choosing what results to bring back. "We rank people on who they are, who their friends are, and their social distance from you," says Microsoft's Paul Yiu.
Mapping Enhancements
For certain restaurants, Bing search results will show you a "Step Inside" link to a 3D panoramic view of the interior of a restaurant (courtesy of EveryScape Eats!). Users can shoot a series of shots with a mobile phone, upload them to the Photosynth tool, and form their own panoramic panoramic views of various places. Interestingly, Bing maps are now mapping the interiors of large buildings like shopping centers, showing each store within, along with a pop-up profile box for the business.
Bing Mobile App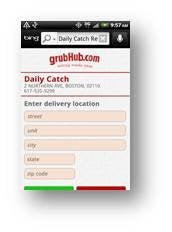 Bing's iPhone and Android mobile apps have also added a few cool, new tricks. The apps integrate with OpenTable and GrupHub, so that when you search for a restaurant you can also quickly make a reservation or order take out. Bing for Mobile also now offers more extensive (vector-based) street-level imagery, "check-in" functionality and real-time GPS-based public transit info.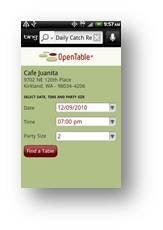 Bing uses what it calls 'signals' like location the GPS location of a mobile device to dictate what search results come back and how they are arranged. This allows Bing to return search results featuring the places and things that happen to be in the proximity of the mobile device, for example. Microsoft believes people's queries on mobile devices are more locally focused and much shorter in duration than on a desktop. These assumptions will also influence search results.
New Comscore numbers released yesterday say that Bing's market share I search grew another .2 percent to 11.8 percent. Microsoft says the search engine now has 90 million users. Microsoft adds that its Yahoo partnership is now fully operational in North America, and that all searches from Yahoo are running on the Bing search engine. With Yahoo searches added in, Microsoft believe Bing now has a "28 percent US footprint."