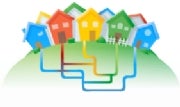 Which American city will receive Google's experimental fiber network? We'll have to wait a while longer to find out, it seems.
The Google Fiber project, announced in early 2010, is designed to bring ultra-fast broadband to a mid-size city ranging from 50,000 to 500,000 people. The service will provide a 1-gigabit-per-second connection, which is at least 100 times faster than the residential broadband most Americans get today. It'll be priced competitively, Google says.
Many U.S. cities have lobbied hard for Google Fiber over the past year, and a few have even resorted to attention-grabbing stunts in attempts to win the search giant's favor.
And the winning city? Well, the big announcement won't come until early next year, the company said Wednesday.
"We had planned to announce our selected community or communities by the end of this year, but the level of interest was incredible-nearly 1,100 communities across the country responded to our announcement-and exceeded our expectations. While we're moving ahead full steam on this project, we're not quite ready to make that announcement," blogged Milo Medin, who joined Google just this week to oversee the Google Fiber project.
According to Medin, Google isn't accepting new applications, so cities that missed the original deadline are out of luck.
One-gigabit-per-second broadband would enable uses not feasible via today's slower connections, such as live 3D video and HD movie downloads in take minutes (rather than hours).
Contact Jeff Bertolucci via Twitter (@jbertolucci) or at jbertolucci.blogspot.com.