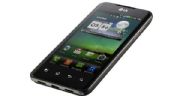 LG Electronics Thursday unveiled the Optimus 2X, a smartphone based on Android and Nvidia's dual-core Tegra2 processor, which provides 1080p HD video playback and recording.
The processor runs at a clock speed of 1GHz, and offers users faster, smoother web browsing and gameplay, as well as multitasking with virtually no screen lag, according to LG.
The phone also comes with a 4-inch screen, 8GB of built-in memory that can be expanded using a microSD card slot, and an 8-megapixel rear camera plus a 1.3-megapixel front camera.
Videos recorded in 1080p can be viewed on a compatible HDTV via HDMI.
LG is the first company to announce a smartphone with a dual-core processor, it said. The company has struggled in the high-end smartphone segment, and taking the lead in the race to put dual-core processors on smartphones could help it gain on the likes of Apple, Samsung and HTC. The launch of the LG Optimus 2X is proof of the company's commitment to high-end smartphones in 2011, it said.
The LG Optimus 2X will be available in Korea in January with more countries in Europe and Asia to follow. The phone will initially be released with Android 2.2, but the smartphone will be upgraded to Android 2.3. LG isn't announcing a detailed upgrade schedule, only saying it will "be announced in local markets in due course".
The company didn't disclose pricing or when the phone will be available in North America.
Dual-core processors are expected to become one of the major hardware trends in 2011. Having previously marketed mobile phones based on the number of megapixels and gigabytes of storage, manufacturers will keep the focus on processors, but shift from speed to multi-core computing, according to a report published by CCS Insight.
However, consumers should take vendor statements about performance improvements with a grain of salt. Smartphones will be marketed as offering "twice the speed" due to a dual-core processor, even though such claims do not reflect true performance, CCS Insight writes.
Send news tips and comments to mikael_ricknas@idg.com