Nvidia's much-hyped Tegra 2 CPU has finally found a home in a smartphone, courtesy of LG's new Optimus 2X, which will be launched in Korea next month. As such, the Optimus 2X takes the honor of being the first dual-core phone to get to market.
Sadly, LG is keeping quiet about when the western world might get to buy the phone, but we can expect it early next year.
The Optimus 2X utilizes a 1GHz dual-core Tegra 2 processor, which is based on ARM's Cortex-A9 with the addition of a mobile GeForce GPU, as part of its system-on-a-chip design. Various tablets have featured the Tegra 2 chip but the Optimus 2X is the first cellphone to utilize it.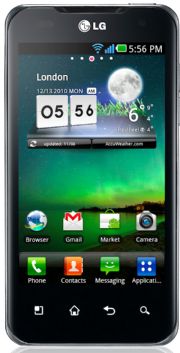 It's because of the GPU that LG makes the extraordinary claim that the Optimus 2X can both play back and record 1080p video via MPEG-4 and H.264 codecs. You shouldn't expect cinematic quality, although the camera does feature an 8MP camera on the back for snapshots, with a 1.3MP camera on the front for video calls. 8GB of storage is included, which will probably be needed to contain any video captured.
HDMI mirroring is also possible, so you can watch what you record on a compatible TV. The phone also features Digital Living Network Alliance (DLNA) compatibility, so it can wirelessly connect to compatible TVs.
Fans of Andoid will be pleased to hear the phone features 2.2 Froyo but will be upgraded to 2.3 Gingerbread when it becomes available, and presumably after LG has finished road-testing it.
LG hints at the phone being a gaming platform too, and it features a gyroscope and accelerometer, but that will ultimately depend on offerings in the Android Marketplace.
LG claims the phone will be fast, with no lag when multitasking or switching screens–and although we'll have to see that to believe it, the inclusion of the Tegra 2 chip undoubtedly ticks the right boxes on paper.
A big question mark hovers over battery life, however. The Tegra 2 might work fine in tablets, but will the 1,500 mAh battery in the LG be able to cope with the demands of the GeForce graphics bolt-on? Nvidia will be watching anxiously.
The phone is a big announcement for LG, which hasn't exactly been at the cutting edge of the cell phone marketplace. However, LG appears to be ramping up its efforts; last week it announced the first implementation of virtualization on a mobile phone.
However, crucial for the phone's success will be its U.S. release date. Being first to market with a dual-core phone will give it a head start because 2011 is gearing up to be the year of the smartphone, and technology has evolved to where the devices are both fast and inexpensive.
A company positioning itself at the cutting edge will have to work hard. For example, Samsung is rumored to have a 1.2GHz phone ready for release early next year, which will launch with Android 2.3 installed on its 16GB of storage. Additionally, Sony Ericsson is rumored to be working on a PlayStation phone, which could further shake up the market, especially in the younger age group.
Keir Thomas has been writing about computing since the last century, and more recently has written several best-selling books. You can learn more about him at http://keirthomas.com and his Twitter feed is @keirthomas.