Whether you want to create a simple greeting card or a lasting, hardcover photo book, ArcSoft Print Creations (price depends on modules purchased, starting at $20) has you covered. This multi-faceted app offers plenty of options for digital photo projects, as the software comprises all of ArcSoft's latest printing apps. While the options are nice to have, the setup can be a bit confusing at first–and experimentation can be costly.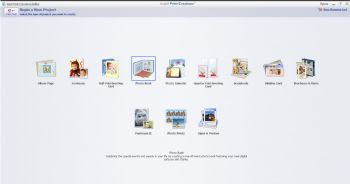 Once Print Creations is installed, you'll see all of its individual modules show up in the "ArcSoft Print Creations" folder in your start menu. Options include things like "Half-Fold Greeting Card," "Quarter-Fold Greeting Card," "Funhouse," and "Funhouse II." Without any context, choosing which one you want can be difficult.
But you can access all of the modules from the slickly-designed Print Creations Launch Pad, which will be much easier for new users to understand. Here, you can decide to create a new project, continue working on an existing project, or place an order. When you start a new project, you're then offered options on which type of project you'd like to create–and the app uses helpful graphic icons so you can easily tell the difference between a Slimline Card and an Album Page.
ArcSoft's module-based approach does have its advantages. Once you're familiar with the different modules, you can save a small amount of time by launching the module directly, instead of accessing it from the Launch Pad. And ArcSoft asks that you pay only for the modules you use. But prices for modules start at $20–and you also have to pay for any printed products you order–so using multiple modules can get expensive, and fast. You do get a discount if you purchase multiple modules at once, though. You also can try each module using the free version of the app, but the sharing and printing capabilities are limited. All of your projects will feature a watermark, and may be printed at a reduced size, but you can get a good idea of what the finished product will look like.
Once you select your project, ArcSoft Print Creations makes the work of creating it easy enough. You simply select your photos, browse available through the hundreds of available templates, and the project is put together for you. Creating a simple greeting card can be done in just a few minutes, and while more complex projects–such as creating a photo book–take longer, they are not unnecessarily complicated.
Once your project is complete, you can print it at home, save it as an image for sharing via the Web, or send it to ArcSoft for printing. Prices range from less than $10 for simple album pages and brochures, while photo books can cost $30 or more depending on the length of the project.
ArcSoft Print Creations is easy to use and its module-based approach is helpful once you're familiar with the software. But if you use too many of its features, this software could end up costing far more than its worth.