Watch out, TSA: Google's getting into the game of exploring the human body.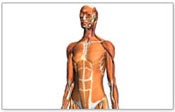 Hang on, though — there's no groping going on here. Google's approach is a new educational tool called Google Body Browser. Launched on the Google Labs website today, Google Body Browser uses HTML5 technology to let you examine the human body in fully layered, three-dimensional detail.
Intrigued? Here's how it works.
(Click on any thumbnail to see the full image.)
Google Body Browser: A First Look
First, a warning: Google Body Browser probably won't load in your browser. The app uses WebGL, a plug-in-free programming interface, to power its 3D graphics. WebGL is a relatively new standard, and most major browsers are still testing its implementation. For now, you can grab the latest beta version of Chrome or Firefox to check it out; eventually, the stable versions of those browsers (and most others) will offer integrated WebGL support.
When you open Google Body Browser in a WebGL-enabled program, you're greeted with an image of a woman standing face-forward wearing minimal workout attire (view full-sized image). Controls on the left side of the screen let you zoom in and out and rotate the woman's body. You can also just click and drag with your mouse to spin her around 3D-style.
Good times, right? You bet. But the most interesting part is when you start using the Google Body Browser layering tool. Located below the zoom controls, the layering tool lets you peel back layers of the body (of the body, buddy, not the clothing — get your mind out of the gutter) to see detailed views of the human anatomy.
Bumping down one level sheds the skin and gives you a glimpse of the muscular structure (view full-sized image). The next level goes skeletal. Keep going and you'll get organs, arteries, and veins — then eventually nothing but nerves.
Want to learn more about what you're seeing? Just click the "Labels" option, and Google Body Browser will serve as your virtual biology book. With the option activated, tiny labels will appear on every item in your current view, letting you know exactly what you're looking at (view full-sized image).
Of course, it wouldn't be a Google product without search. Type any muscle, bone, or organ into the search box at the top of the page, and Body Browser will instantly zoom into the appropriate part to show you where it is (view full-sized image).
One other neat feature worth mentioning: Body Browser adjusts its URL as you move along, so if you ever want to save a particular view or share it with someone else, all you have to do is copy the current Web address and you're good to go.
Finally, if you're jonesing for some testosterone-laden exploration, fear not: Google says a male model will be added into the Body Browser app sometime soon.
You can try out Google Body Browser right now at bodybrowser.googlelabs.com. Or, if you don't feel like playing doctor just yet, check out this video to watch the app in action.
JR Raphael is a PCWorld contributing editor and the co-founder of geek-humor site eSarcasm. You can find him on both Facebook and Twitter.