We work in the privacy of a garage or bathroom. Our tools are simple but effective. Serial refillers buy bulk ink and pump it into the same cartridge, over and over again. We wouldn't dream of buying brand-name ink cartridges for our printers; we know that the cheapest way is to handle the task ourselves. I'm a serial refiller–and this is my story.
I became a serial refiller when I realized that my printer's ink cartridges cost more per milliliter than human blood or Russian caviar. I started shopping around, and I realized that cheaper alternatives are available for anyone willing to get their hands dirty–or willing to pay someone else to do the messy work.
In the "Portrait of a Serial Refiller" series, I'll try third-party alternatives to buying new printer cartridges from the original vendor (aka original equipment manufacturer, or OEM), including remanufacturers, refill services, and do-it-yourself refill kits. Because bargain ink, no matter how cheap, is a bad deal if it smears, runs, or is a hassle to buy or use, I'll put each third-party option through its paces and tell you whether it's worth the trouble.
My test printer is an HP Photosmart e-All-In-One, which uses HP 60 or 60XL (high-capacity) black and tricolor cartridges. For each refill experiment, I'll start with a new set of OEM cartridges, drain them, and then use them for the refill or remanufacture. I'll print a set of pages, ranging in content from plain text to a full-size color photo, over and over again until the ink starts to run out (blank streaks appear on the page). I'll count the number of pages that I was able to print before streaks appeared. I'll also compare the print quality of the pages using third-party ink versus OEM cartridges.
While my ink refill experiences won't apply directly to other printers, they will give you a taste of what to expect. And then maybe you'll become a serial refiller, just like me.
InkTec Refill Kit: Very Cheap, Very Messy
Products: * InkTec Refill Kit for HP 60 and 60XL Black Ink Cartridges, $13 * InkTec Refill Kit for HP 60 and 60XL Color Ink Cartridges, $17 Tax and shipping costs: None when purchased from OCProduct via Amazon.com Vendor URL: InkTec.com Worth trying? Yes Hassle factor: High Print quality compared with OEM ink: Excellent Yield (mixed set of samples): 90 pages Cost per page: 2 cents (OEM: 27 cents) Bottom line: If you're a do-it-yourselfer who doesn't mind a little spilled ink once in a while, the InkTec Refill Kit is a dirt-cheap alternative to pricey printer cartridges. In my experience, it cost over 90 percent less than the OEM inks did.
My printer needed two kits to get started: the $13 black ink package, and the $17 color set, which includes individual ink refills for cyan, magenta, and yellow.
The InkTec kits have everything you need to inject fresh ink into a depleted cartridge, including one or more injection needles (depending on the kit), a pair of plastic gloves to protect your hands, and a suction syringe to clean the cartridge nozzles. Protect your workspace from splatters with paper or plastic covering, and keep a few rags handy to soak up spilled ink.
The user manual includes step-by-step illustrations, which are quite helpful. In fact, novices might have a tough time without them.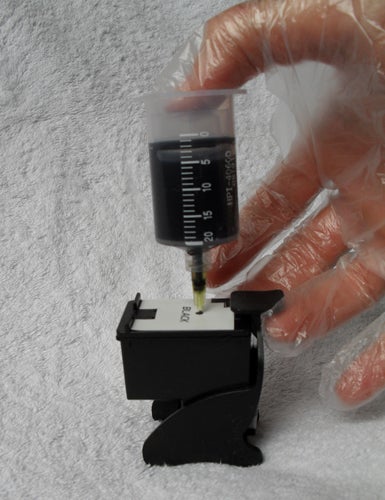 First, remove the ink cartridge from the printer and insert it in the refill clip, which secures the cartridge during the ink-injection process.
The InkTec kit includes a sticker that affixes to the top of the ink cartridge and has a dot to indicate the hole (manufactured into the cartridge by HP) for refilling. The syringe (attached to a refill tank) goes in the cartridge hole marked by the black dot. The color cartridge's refill process requires a separate injection for each color.
Ready, Set, Squirt
The process can get messy. My first attempt to refill the cyan tank resulted in an overflow. I quickly dabbed the excess ink with a rag, glad that no cyan ink dripped into the magenta or yellow tanks.
After refilling, I used the suction syringe to drain a little ink from a rubber hole on the bottom of the refill clip. This step cleans the cartridge nozzles.
Next, I removed the cartridge from the clip and dabbed the cartridge nozzles. After reinserting the cartridge in the printer, I ran the printer's nozzle-cleaning utility before use. The black cartridge reinserted without incident. When I reinserted the tricolor cartridge, I got two low-ink warnings, one from a pop-up dialog box in Windows and the other on the printer's LCD. I started printing anyway. After producing three sets of perfectly good prints, the printer's LCD posted this dire warning: 'Original HP Ink Depleted. Print cartridge(s) refilled or depleted. Replace Cartridge(s) or press OK to continue.' I pressed OK.
The refill process for both the black and color cartridges took me about an hour and a half. I spent a lot of that time studying the manual; with a little practice, I could probably slash my refill time to 30 minutes or less.
High Print Quality, Low Cost Per Page
Although the InkTec refill process was messy, the results were surprisingly good. I couldn't tell the difference between the pages I printed using the OEM inks and those using the InkTec refill inks. In the samples, colors were vibrant and matched perfectly. Similarly, text from both samples was sharp, with no banding or streaking. I didn't test durability over time, but I did drip a little water on an OEM sample page and an InkTec sample page; each suffered the expected streaking and color bleeding, but the third-party ink fared no worse than HP's house brand.
As for the page yield, the HP 60 cartridges printed 132 pages before streaks began to appear in images and text. After I refilled with InkTec inks, streaks appeared after 90 pages. Even considering that lower page yield, the InkTec inks are far cheaper than the OEM inks. The prints I produced with the set of HP 60 cartridges worked out to 27 cents per page. With InkTec kits, the costs came in at 2 cents per page–a savings of more than 90 percent over the OEM inks.
Note that InkTec's kits are good for multiple refills. The black kit comes with 40 milliliters of ink in two 20ml tanks. Each refill of a standard-size cartridge uses approximately 4ml of ink, so one kit is good for up to 10 refills. Similarly, the color kit has three 25ml tanks, and each refill uses 1ml of ink. Hence, each color kit is good for up to 25 refills. If you're refilling the high-capacity 60XL cartridges, you'll get 4 black and 12 color refills.
Refill Caveats
The InkTec kits are undeniably less expensive, but the hassle factor is high and could increase with time. Ink spills and cartridge cleanings could lower the number of refills. The OEM printer cartridge could leak or produce substandard output long before the refill tanks run dry. Nevertheless, even if you have to buy a new OEM cartridge every now and then to resume refilling, you're still going to come out way ahead in cost. If syringes and ink-cartridge surgery don't make you squeamish, do-it-yourself refills such as the InkTec kit I used are a good buy.
Stay tuned for the next installment, where our serial refiller tries remanufactured cartridges from a major office-supply store.