Nokia and Microsoft are reportedly discussing an alliance that would lead to Nokia-branded smartphones running the Windows Phone 7 mobile operating system. The claim comes from respected Russian tech blogger Eldar Murtazin, the man behind many of the smartphone leaks you see today.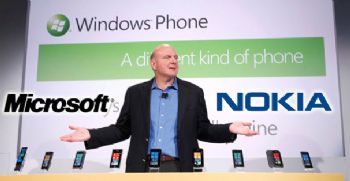 Murtazin reports (in Russian, via Google Translate) that Nokia secretly met with Microsoft over the past month, discussing expanded cooperation. Murtazin implies that it's not a cooperation based on better Microsoft Office products for Nokia phones, but about creating a whole line of Nokia-branded smartphones running the Windows Phone 7 mobile operating system.
While Murtazin has a good track record when it comes to inside information from Nokia, it must be mentioned that Nokia has repeatedly denied that it plans to use a different smartphone OS than its own Symbian and MeeGo. Speculation earlier this year said Nokia was looking to make a smartphone running the Google Android OS, which the company vehemently denied.
However, as far-fetched Murtazin's report might sound, it's a real possibility that Nokia is indeed in talks with Microsoft over making Windows Phone 7 devices. Symbian OS, which powers current Nokia smartphones, is widely seen as an unworthy match to the sleekness and polish of rival OSs from Apple (iOS) and Google (Android).
Android and iOS are dangerously close to undermining Nokia's world leader position. According to the latest figures, Nokia is still the biggest phone manufacturer in the world, but its share is quickly eroded by Android, which gobbled up over a quarter of the worldwide mobile OS market, and by iOS.
Microsoft introduced this year, to mixed reviews, its new mobile OS, Windows Phone 7. Microsoft's entry arrives after three years of iOS erosion of its market share, and two years of Android invasion. In just over three years, Microsoft's mobile OS market share dropped from over 62 percent (including PDAs), to less than 3 percent. That is why Murtazin writes that both Nokia and Microsoft are desperate to regain their market mojo.
But whether this would mean Nokia-branded Windows Phone 7 smartphones, only time can tell. And the main reason to tilt the balance against a Microsoft partnership is because Nokia has invested heavily into its Symbian OS, which it plans to revamp several times over the coming year; and has also invested in MeeGo, developed in partnership with Intel, which is yet to make it to the market.
Follow Daniel Ionescu and Today@PCWorld on Twitter.