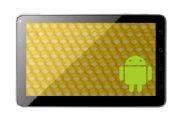 The rumors surrounding a Motorola Android tablet have finally been confirmed–though we still don't know very much about it. Motorola posted a YouTube video today called "Tablet Evolution," which starts with an ancient Egyptian stone tablet and ends with the yet-to-be-named Motorola tablet. Nothing is revealed about the tablet—not even how it looks—but the bee flying toward it indicates that it will run Android 2.4 aka "Honeycomb."
Android 2.4 will be the first version of Android designed especially for tablets. Other Android tablets, like the Samsung Galaxy Tab, run Android 2.2 or below, which was designed for phones first. Check out Motorola's tablet teaser video:
Andy Rubin, Google's vice president of engineering, showed off a Motorola-branded prototype at D: Dive Into Mobile a few weeks ago, which he confirmed sported an NVIDIA "dual core 3D processor" and video chat. It also appears to have no physical buttons as Android 2.4 will allow manufacturers to use software-based home and back buttons. Other rumored specs include a 5-megapixel back-facing camera, 7-inch and 10-inch versions and a gyroscope. It is also rumored to come in three network flavors: UMTS, CDMA and LTE (Verizon's network, supposedly).
What's on your spec wishlist for the Motorola tablet? Sound off in the comments below.