Nattering nabobs of negativism aside, the marketplace for Windows Phone 7 apps is doing quite well, thank you. A recent analysis from IDC shows that the WP7 marketplace is growing at a faster clip out of the gate than its counterpart for Google's Android operating system. What's more, it can even be favorably compared to Apple's app store.
It has taken just two months for the WP7 marketplace to reach 4000 apps, according to IDC. It took the Android shop six months to hit that mark. "The Windows Phone 7 Marketplace reaching 4000 apps two months after launch has to be one of the most rapid ramp-ups in recent times," IDC analyst Al Hilwa wrote in a research note.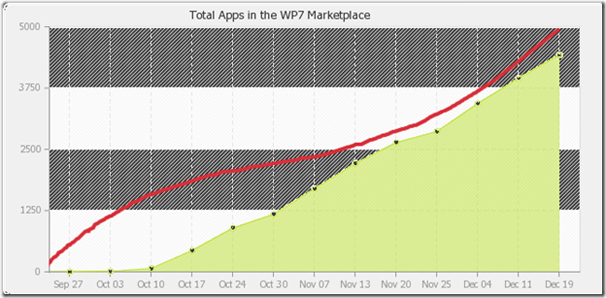 Not only is app growth in the WP7 marketplace faster than it was at the Android bazaar during a comparable time period in their histories, but it also compares well with app growth at Apple's app store during its start-up phase (see chart).
After Microsoft built anticipation and garnered lots of favorable ink during the months leading up to the release of the WP7 platform this fall, the boo birds descended from the rafters to bash the product and write its epitaph. Those sentiments may have been premature, according to Hilwa:
"We can say that for a company that just a few months ago was an also-ran in mobile, having 10 smartphones released in 30 countries is not a trivial achievement," Hilwa wrote. "I would not be surprised if Microsoft had the third largest app portfolio in the industry by the middle of next year."
Microsoft fans who expected WP7 to generate the kind of immediate spectacular success that Apple created with its iPhone and iPad products should know by now that that's not the way Redmond operates. If Apple is the hare, then Microsoft is the tortoise. "No one expected WP7 to take the market by a storm, but the role of the first release was to [put] Microsoft in the game," Hilwa maintains. "To be clear, this is a long term battle that will be pivotal for Microsoft's long-term relevance."
Note: When you purchase something after clicking links in our articles, we may earn a small commission. Read our affiliate link policy for more details.