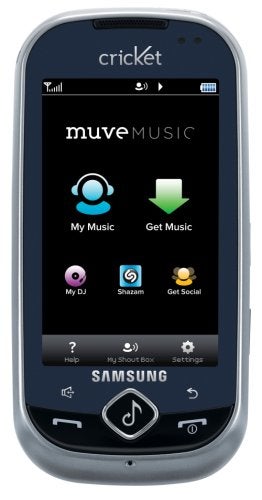 Cricket Wireless unveiled its new unlimited music plan, Muve, as well as a brand new phone from Samsung, called the Suede. The carrier teamed up with the big four major record labels (Universal Music Group, Warner Music Group, Sony Music Entertainment and EMI Music. With Samsung, Cricket designed a brand new interface centered around the Muve service and launched a brand new plan for customers.
For $55/month, Muve customers get unlimited full track and ringtone downloads as well as unlimited nationwide calling, unlimited SMS and MMS messaging, unlimited Web and a free back-up service. The service is currently only shipping on the Samsung Suede, which will cost $200. Cricket says that the service will eventually be available on smartphones.
I got a chance to play with the new service and I was impressed by its ease-of-use and clean user interface. It isn't flashy or pretty–this is no iTunes or Zune Player–but it works well. Finding music is a snap and there are a few other cool features like a built-in social network called Shout that lets you share music with your other Muve-using friends. It also comes with Shazam so you can buy those songs that you're always hearing on the radio, but not quite sure what they're called.
The Suede is a pretty basic Samsung feature phone: It has a 3-inch display, HTML Web browser and 3G network support. But most notably, it has a hardware "Muve button" that takes you straight to the service. Another unique feature is how Cricket is the SanDisk microSD card installed in the Suede. An alternative to DRM-protected files, the music on the card is protected and can only work on the Suede. If you try to pop it into your Nexus S, you won't be able to access those files. Unmovable music files aren't ideal, but I actually prefer this method to DRM. During playback, DRM-protected songs tend to have an annoying gap between them.
Songs downloaded pretty quickly (about 20 seconds during my demo) over Cricket's 3G network. The music is formatted in a special codec called Dolby Pulse, which is compressed to easily go over a 3G network. Sound quality was comparable to MP3 files. The service is cloud-based so if you happen to destroy your phone or opt to get one of the Muve smartphones coming out this year, you can get all of your music back easily.
I can see this plan being very popular with customers who don't own laptops or like buying songs ala carte. The built-in Shazam app works really well with this style of music consumption. More than likely, these customers don't download whole albums and pick-and-choose songs based on what's hot. Muve will officially launch in January 2011. We'll see a lot more of Muve at CES so stay tuned.