Apple's slogan used to be "Think Different." Now it seems more like it's "Think Like Us."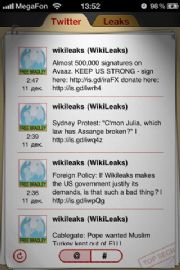 Just as many other big companies like Visa, MasterCard and Bank of America are removing support for the controversial WikiLeaks organization, Apple has now pulled WikiLeaks' unofficial app from its App Store.
The app, created by Igor Barinov, appeared in the App Store on Saturday and sold for $1.99 — $1 of which was apparently a donation to Julian Assange's organization. Barinov received an e-mail from Apple (procured by TechCrunch) that simply said that the status of his app has been changed to Removed From Sale. A cached version of the WikiLeaks App can be viewed on Google.
Speaking of Google, there are still more than a half-dozen WikiLeaks-accessible apps on the Android Market, some of which are free. It's uncertain as to whether Google will remove this content.
Apple Insider parsed through Apple's app restrictions and found that "Apps that include the ability to make donations to recognized charitable organizations must be free," and "the collection of donations must be done via a website in Safari or an SMS." Judging by these standards the WikiLeaks app was, in fact, in violation of the App Store's terms of service. But if that — and only that — was the case, Apple could have informed Barinov of this in its e-mail.
Calling Apple's behavior censorship may be a little overdramatized, but in combination with its sweeping ban on pornographic material, its now-rescinded removal of a political cartoonist's work, and a patent filed that aims to snuff out sexting, the company, once known as a liberal group, now appears to be sliding to the right.