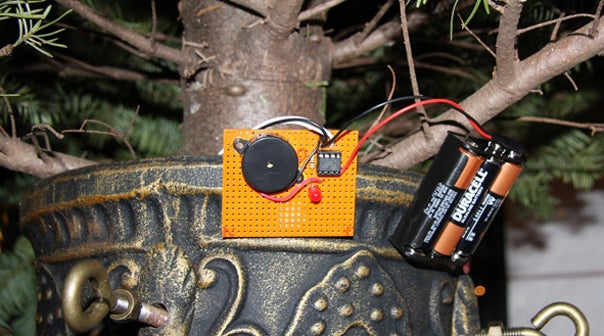 This year we've seen lots of cool, useful, and even downright weird hacks and D.I.Y projects. But just because it's the holiday season doesn't mean that the hacks stop. Here are five favorites bound to make any Christmas special.
Tree Water Monitor
The problem with having a real Christmas tree is the fact that, well, it dies. Watering it can extend its life, so Eric Ayers made a tree water monitor. After buiding the sensor, he created three strips with varying warnings on them. Basically, when all the strips were in water everything was fine, however as soon as the second and first strip re-submerge a light will blink to remind someone to water the tree. When there is no water left, a buzzer will sound until the tree is watered. Of course, if this still isn't enough to make you check your poor tree, slap a microcontroller onto the stand and let your iPhone remind you.
Laser Tree
If you're bored of the traditional lights adorning every inch of the Christmas tree, why not replace them with something a little different?
Nova Lasers shows how you can swap the little bulbs with lasers, akin those you might find at a nightclub. Take some glow lasers, add Diffraction Gratings, and some cable and electrical tape, and you'll have the best Christmas rave ever. Nova Lasers has a great instructional piece so you can give this one a try at home.
Ultimate Christmas Lightshow
Earlier this year, we showed you the Halloween-themed singing house. More recently we saw a Santa-themed game. However, the residents of one street in a California suburb has gone one step further–the whole block is a lightshow synchronized to music! This house hack really is community spirit at its finest. 13 homeowners took part, and the project required over 45,000 LED lights, 130 extension cords, and 17 wireless controllers. A stunt like this must of taken months to put together, but it was worth it if even just for one run.
Christmas Cannon
This little D.I.Y cannon will definitely spread a little cheer around the house (depend what you stuff in it, that is!). Serial modder Ed Lewis hacked a sprinkler valve and added it to a Schrader Valve and simple PVC pipe (much like the ones you find under the sink). After a bit of tinkering with a lot of PVC, drilling and tape, the Christmas Cannon was born.
RGB Christmas Tree
This outdoor RGB tree has 2000 waterproof RGB LED lights and runs a program based Apple's Quartz Composer, integrated into Madrix to display the light patterns. If you have an Arduino kit, you can make your own scaled-down version of this tree.
Got a holiday hack? Share it in the comments!
Like this? You might also enjoy…
Follow GeekTech on Twitter or Facebook, or subscribe to our RSS feed.