It's been nine months Google launched its Apps Marketplace. It gives third-party developers access to the same cloud platform as Google Apps for Business, which offers organizations tailored, private versions of Gmail, Google Docs, and other Google apps. It's all part of Google's push to get workers into cloud-based applications, and away from software such as Microsoft Office.
Some of the apps in the Marketplace complement existing Google Apps functionality, although most offer entirely new functionality, such as accounting or customer relationship management (CRM).
Because the apps are cloud-based they're usually accessed through a Web browser, rather than downloaded. The apps can be accessed on phones and tablet devices in addition to laptops and desktop computers. Additionally, cloud apps can be accessed anywhere there's a network connection.
A significant number of the apps are free, although licensing costs for the paid-for apps are perhaps slightly lower compared to that of traditional PC-based software, and are usually on a per-user, monthly basis.
The nine months since the Marketplace inception have clearly been busy as there are now more than 250 applications available, and four million users have at least one of those apps installed on their Google Apps domain.
As the year draws to a close Google has put together a top 10 list of user favorites. The three most popular categories are Project Management, Customer Relationship Management (CRM), and Accounting and Finance. Of those, Google says CRM is the most searched-for term by those looking for new apps. It perhaps comes as no surprise that the top 10 list is populated by either free apps, or ones that are cut-down versions of premium applications.
The top 10 is as follows, with each entry listed alongside their category and upgrade fees, if any.
1. Manymoon
What it's for: Project and task management
This project and task management tool offers total integration with Google Docs, such as the capability to attach Docs to tasks, projects and events, and to assign tasks via e-mails. It integrates with existing Google Calendars too, to give an overview of project milestones–and it features a microblogging feature.
Cost: Free for 25MB of storage and basic functions, tiered plans up to $49 per month for more
2. Insightly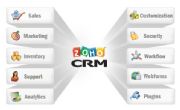 CRM and project management
This CRM and project manager features clever e-mail integration that creates new client details based on sent and received messages. The app will automatically search online to find details about clients for you, and it offers an at-a-glance representation of current events.
Free
3. Zoho CRM
CRM
This CRM tool offers customization features along with mail integration that will track conversations automatically. And it has marketing campaign features, such as tracking e-mail send-outs.
Free for up to three users; $12/$25 per user per month for paid edition depending on features required
Presentations and design suite
This presentations and design suite with built-in image and audio editing can be used for everything from creating slides to mixing podcasts. A screen capture tool helps with creating presentations. A built-in vector editor can even create T-shirts and icons.
Free
5. Mavenlink
Project management
This project management service integrates tightly into Google Docs, and offers the capability to invite clients to view workspaces. Milestones, deliverables and tasks are automatically added to Google Calendar too.
Free for three active projects and 500MB storage; tiered plans up to $79 per month for more
6. Outright
Accounting and tax
This accounting and tax app lets you share access with your accountant. It ties in with online banks, so can automatically pull-in data. Customer payment histories can be viewed within Gmail, and the app integrates with Google Calendar, so you can see when payments are due.
Free, with some paid-for add-ons such as automated tax filing
7. MailChimp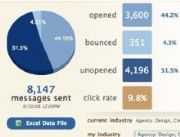 E-mail campaign and newsletters
This e-mail campaign and newsletter-sending app touts powerful reporting tools, such as tracking how many of the e-mails are opened and by whom. IT features an HTML e-mail-creation tool, and can integrate with social networking tools includingTwitter and Facebook.
Free for up to 1,000 subscribers and up to 6,000 emails per month; various pricing tiers from $15 up to $240 per month for 50,000 subscribers
8. RapidTask
Project management and To Do lists
This simple project management tool is built around To Do lists, featuring Gmail integration to show who's assigned to a task. Private or personal task lists can be created, and tasks assigned to various users. Due dates are automatically added to Google Calendar.
Free for up to five user assignations and 100MB of storage; additional packages adding five more user assignations and 1GB of storage available at $5 per month
9. Insync
Cloud file syncing, including offline support for Google Docs
Insync is similar to services like DropBox in that client software must be downloaded (PC or Mac), which creates a folder on your hard disk that syncs automatically online. Anything placed in the special "Google Docs" folder is automatically imported into that service, and any items created within Google Docs are automatically saved as files.
Free for five users and 1GB of storage shared amongst them; further price plans TBA
10. myERP.com
Enterprise resource planning
This Enterprise resource planning (ERP) service comes with a comprehensive list of features, including CRM, invoicing and billing creation, project management, and accounting tools. It integrates into Gmail and Google Apps contacts.
Free for up to two users; $49 per user per month for premium plan ($29 per month if paid yearly)