Amazon is on track to sell eight million Kindles this year. That's 60 percent more of the electronic readers than analysts predicted would be sold, Bloomberg Businessweek reported today. By contrast, Apple sold 7.6 million iPads from April to September of this year.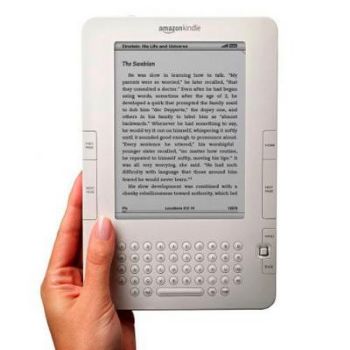 Of course, any Kindle sales figures are at best educated guesses, since Amazon doesn't officially release sales numbers for the device.
Analysts at Citigroup, Barclays Capital, BGC Partners and ThinkEquity pegged 2010 Kindle sales at five million in 2010, according to Bloomberg. Caris & Co. had a slightly lower estimate, 4.8 million, and Goldman Sachs took a ballpark approach, four to five million.
Either set of figures–the analysts' five million or the eight million coming from "two people who are aware of the company's sales projections"–are eye openers. They suggest that e-readers are getting good traction among consumers, despite the popularity of the iPad and the buzz surrounding tablet computing.
Amazon sells three versions of the Kindle–a WiFi-only version for $139, a Wifi/3G model for $189 and version with a larger screen for $379. However, Amazon makes software that runs on a variety of devices, including the iPhone, iPod touch, iPad, Android phones, PCs and Macs, so its electronic books can be read on almost any platform.
The Kindle appears to be benefitting from the explosion of the e-book market this year, with sales closing in on $1 billion.