Users of Android smartphones on AT&T's network will now be able to charge their Android Market purchases to their monthly phone bills. Instead of using credit cards to buy apps from the Android Market, users can have their purchases incorporated in their monthly smartphone contract bill.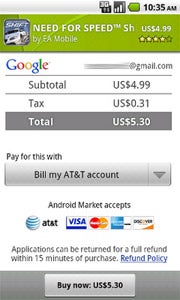 Google engineer Eric Chu announced the new billing option in a blog post on the Android Developers blog, saying carrier billing is "a great way to make it easy for users to purchase and pay for applications" from the Android Market. T-Mobile introduced carrier billing for Android Market purchases last year.
To pay for an app from the Android Market via your carrier contract, a new option tab was added in the checkout interface in the Market, where you can select to pay either with a credit card or via your AT&T account. If the AT&T account option is selected, after entering your credentials, the cost of the application will be added to your phone bill.
As Google announced this week, Android Market shoppers will also able to return an app they downloaded and receive a full refund within 15 minutes of the purchase time. This feature, though not particularly popular with developers, is a good way for users to evaluate whether the app they purchased is what they wanted.
Google tried to improve its application store for Android smartphones recently, introducing several new features to Android Market, which now hosts in excess of 100,000 applications. The improvements include larger application sizes (up to 50MB), more categories within the store and a new carousel on the home and category screens for easier app discovery.
Google also says it will continue to partner with more carriers to offer carrier billing options for their subscribers.
Follow Daniel Ionescu and Today@PCWorld on Twitter