Google is getting into the Christmas spirit by letting you track Santa on Google Earth or Maps; watch highlights from the man-in-red's magical journey on YouTube; and even leave him a voicemail on his Google Voice Number.
Google has once again teamed up with the Northern American Aerospace Defense Command (NORAD) to keep an exact fix on the jolly old elf's location in real time. This year, according to Google and NORAD, Santa's 2010 route plan includes more than 200 countries and territories worldwide. You can follow Santa starting at 2 a.m. Eastern Time Friday using the Google Earth Web browser plug-in, Google Maps for mobile or desktop, Twitter, and Facebook. The best part is you can teach your child a little about the world while satisfying their curiosity about Santa's annual journey.
Here's how you to keep tabs on Santa during Christmas Eve 2010.
Google Earth
The easiest way to follow along with Santa is through the Google Earth browser plug-in (not the Google Earth desktop client) for Windows or Mac OS X. For Windows, the plug-in works with Google Chrome, Internet Explorer 6 or higher, Firefox 2.0 or higher, and Flock. Mac users with Intel-based machines (but not PowerPC-based Macs) can use the plug-in with Safari 3.1 or higher, Firefox 3.0 or higher and, unlike last year, Google Chrome for Mac. You can download the Google Earth plug-in here.
Once you install the browser plug-in, visit noradsanta.org and click on Track Santa in Google Earth. You will then be able to watch Santa steering his sleigh right from your Web browser. You can also click on special YouTube videos to see Santa in action at locations around the globe, and clicking on gift icons on will let you learn more about each city. Last year, each gift icon provided images from Google's Panoramio service, as well as Wikipedia entries about each location. It's not clear if Google will offer the same content this year.
Track Santa On Google Maps–Desktop and Mobile
If you don't use the Google Earth plug-in, you can still see Santa's real time location in the standard version of Google Maps. You will also be able to view the YouTube videos and click on the gift icons using Google Maps.

As an added bonus, the Google Maps' Street View Pegman (the little orange man) will also get into the Christmas spirit on Friday by wearing a miniature version of Santa's cap.
If you're family is on the go Friday, you can use Google Maps for Mobile to find Santa's latest location. Just point your mobile Web browser to m.google.com/maps and type "Santa" into the Google Maps search box to see where the jolly old elf is.
If you don't have access to Google Earth on Friday, you can still follow along with Santa via @noradsanta on Twitter, the NORAD Santa Facebook page, or Santa's Picasa Web album. You can also expect regular video updates through Santa's YouTube page.
Santa Calling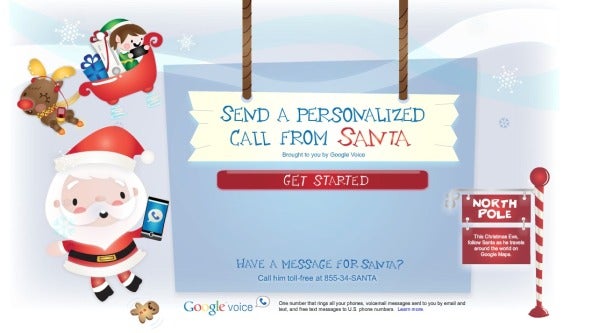 As a special treat this year, Google Voice has teamed up with Santa himself to send personalized messages to kids of all ages. Just visit SendACallFromSanta.com and fill out some personal information about the person you want Santa to send greetings to such as their favorite food and what they want for Christmas.
After you're done, you'll get a chance to hear the personalized message from Santa to your loved one. After that you can forward Santa's personalized message to a U.S. telephone number, e-mail address or Facebook account.
You can also have your child leave Santa a voicemail on his Google Voice number to make sure he knows what's on your kid's Christmas wish list. Just call 1-855-34-SANTA to leave Saint Nick a message.
Santa Gets Government Approval
With billions of children anticipating his arrival in over 200 locations around the world, 2010 is shaping up to be a big year for Santa. But there were early indications that his journey across the United States was going to be impeded this year. The man in red recently upgraded to a next-generation sleigh, dubbed Santa One, that is faster and features improved maneuvering capability when descending into cities and town.
To cross American skies, however, the new aircraft needed approval from the Federal Aviation Authority's safety inspectors. Children around the country breathed a sigh of relief Monday after the FAA announced it had certified Santa's new sleigh for air travel just four days before Christmas Eve. Santa is the only pilot the FAA approves to fly thousands of domestic and international short-haul and long-range flights in one night. You can read the official FAA press release here as well as find more information about Santa One at FAA.gov.
The Santa-NORAD Tradition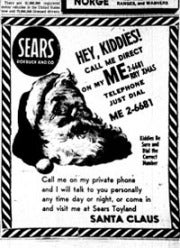 Norad's annual tradition of tracking Santa Claus on his Christmas trek around the world began quite by accident in 1955 thanks to a Colorado Springs-based Sears. The department store published a newspaper ad promising kids the chance to call Santa on Christmas Eve. However, instead of Kris Kringle's hotline the ad mistakenly printed the direct number for the Commander-in-Chief of Continental Air Defense Command (CONAD), the predecessor to NORAD. CONAD's hotline was reserved exclusively for calls from the Pentagon and high-level military commanders.
That night, however, calls from children soon started rolling in to CONAD's Colonel Harry Shloup, who was director of operations at the time, looking to talk to Santa. Not wanting to disappoint the children, Shloup had his staff check the radar for any indications that a reindeer-powered sleigh was moving southward from the North Pole. Indeed there were indications that Santa was on his way, and children who called in to CONAD that night were given updates on Santa's location. Thus, the tradition of NORAD tracking Santa Claus was born.
Follow Santa Claus ( @noradsanta ) on Twitter for the latest gift news and analysis.