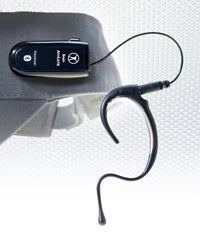 Are you an athlete? Do you play mentally challenging games? The BrainAthlete system, the world's first brainwave athletic trainer, could help you get in the zone and massacre the competition.
The BrainAthlete system is a brain-computer interface that monitors your mental states as you play the game. The BrainAthlete is engineered into a standard golf visor and has three contact points in the headband that are noninvasive. These contact points monitor the EEG electrical activity in the brain and then can relay the information by way of Bluetooth to a computer up to 10 meters away.
The BrainAthlete can then review the material to determine what they need to do to get more "in the game." The visor weighs only 100 grams (slightly less than a quarter of a pound) and will run on battery for up to 2 hours. You'll be able to buy yourself one in the U.S. sometime in the first quarter of 2011.
The creators and researchers of the BrainAthlete, NeuroSky, B-Bridge, and professor of psychology at Arizona State University, Dr. Debra Crews, have been working with athletes in mentally challenging sports like archery and golf. However, the limits are endless. I am particularly interested in how I could use this device to improve my school and work. I'd also use it to take down Deep Blue in a game of chess, but that's for another day.
If you're interested in improving your mental-athletic ability then this brain-computer interface is for you. But if you're like most geeks then you might be more interested in using the BrainAthlete for WoW and StarCraft II, that is, if you can muster the estimated 40,000 Japanese yen (~$483 USD).
Like this? You might also enjoy…
Follow GeekTech on Twitter or Facebook , or subscribe to our RSS feed .