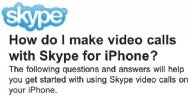 Over the holiday, Skype posted (and quickly pulled) a FAQ regarding video calling on iPhone. Video calling on mobile Skype has been rumored since Apple revealed the iPhone 4, and it would appear the feature is coming quite soon. RedmondPie captured the page before it was taken down- here are a few interesting tidbits from the FAQ:
"You can make Skype video calls by using a WiFi or 3G connection."
"In both portrait and landscape mode double tapping anywhere on your screen will zoom the picture to take up the full extent of the screen. Double tapping again will take the picture back to its normal size."
"Yes, you will be able to receive screen shares from people using Skype for Windows or Mac OS X. You cannot share what is on the screen of your iPhone."
"Skype for iPhone does not support group video calling."
"The contacts you are calling must be using one of the following Skype clients:
Skype for Windows version 4.2 and above
Skype for Mac OS X version 2.8 and above
Skype for iPhone 3.0 and above"
"Make sure your device is running iOS 4.0 or above."
So in other words, cross-platform full-screen video calling and screen share receiving over 3G. Not bad!
Follow Mike Keller and GeekTech on Twitter.