Amazon.com has filed a patent for returning unwanted gifts before a recipient receives them, a system that would eliminate the need for regifting.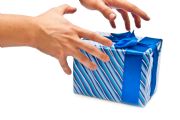 The system allows Amazon members to create a sort of blacklist for gift-givers. When people on the list attempt to send a gift to the member, it triggers an e-mail alerting the member of the action. If the member doesn't want the gift, he or she can return it before it's sent. That saves the member the time and hassle of returning the physical gift. It also saves Amazon the cost of processing the return.
One of the benefits of the system would be to prevent recipients from keeping unwanted gifts, according to the patent. "[T]he process of converting the gift to something else once it has already been opened may be perceived by the recipient as being inconvenient," it said.
"This may particularly be the case in the context of a gift purchased online, where the gift would likely need to be repackaged for shipping back to the merchant," it continued. "Accordingly, the recipient may not ultimately convert the gift to something else, even though the gift does not meet the needs or tastes of the recipient."
"The gift-giving experience through network shopping services would be improved for both senders and recipients if enhanced systems and methods were provided for converting gifts," it added.
Needless to say, the proposed system is shocking to some.
"This idea totally misses the spirit of gift-giving," Anna Post, the great-great-granddaughter of etiquette empress Emily Post, told the Washington Post. "The point of gift-giving is to allow someone else to go through that action of buying something for us. Otherwise, giving a gift just becomes another one of the world's transactions."