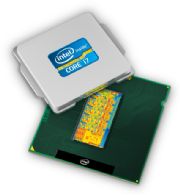 Intel will be ringing in the New Year with their long-awaited second-generation Core processor, codenamed "Sandy Bridge." It's the "tock" of the company's 32-nanometer fabrication process, which succeeds this year's corresponding "tick"-the 32-nanometer die shrink of the company's Nehalem microarchitecture, codenamed "Westmere."
That's a lot to digest: Intel's general CPU strategy follows a tick-tock pattern; the company unveils alternating successions of brand-new microarchitectures and improvements for its product cycles. Sandy Bridge is the former: a brand-new chunk of CPUs with a new socket, new chipsets, and new technologies that are designed to push Intel to the next echelon of computing performance.
Of all the changes present in Sandy Bridge–including Intel's final push to unify its desktop and mobile lines under an identical 32-nanometer production process, none are perhaps as remarkable as the company's integration of a graphics processing unit directly onto the die of some Sandy Bridge processors. These should be able to double the performance of Intel's current integrated graphic lineup. But that's not all: neighbor to the GPU is an upgraded video processing unit that dedicates actual silicon to encoding and decoding videos, improving the performance of both.
But before we get too far into the raw technical details, here's what Intel's been able to let loose in regards to the actual lineup of chips heading out the door in early January. The company hasn't dropped its "Core" designation for its CPU lineup: You'll still see Core i3, i5, and i7 branded chips on the market. The number immediately following the "i" modifier-a "2"-will indicate that said CPU is a part of the Sandy Bridge family, as it's a second-generation CPU. Three more numbers will indicate the specific processor SKU, and a letter possibly appended to the end-"K," "S," or "T"-will detail whether the CPU is unlocked for overclocking, optimized for "lifestyle" computing, or optimized for power-savings.
As you might expect, you won't be able to slap a second-generation Core processor into your current system.The new Intel socket for Sandy Bridge is LGA-1155, and you'll find it paired on motherboards that are themselves based on three new chipsets: the performance-focused P67, the integrated graphics-focused H67 (click the diagram for a larger view), and the entry-level H61.
Turning back to the Sandy Bridge CPUs themselves, we mentioned that the addition of an on-die GPU is a pretty big step for Intel-a step up from the Clarkdale design, Intel's first GPU/CPU combination. While you won't be able to run chips that beat the best of Nvidia or ATI's discrete cards, Intel boasts that the new execution units present in its Sandy Bridge GPU not only come at more than twenty times the power of Intel's Generation-5 graphics, but that the cards themselves should rival integrated (and even entry-level discrete) graphics from Nvidia and ATI.
These integrated DirectX 10 GPUs will benefit from a number of functions normally found within Intel's CPUs, including their Turbo Boost functionality for automatic overclocking and (more importantly) shared access to the chip's L3 cache (click the diagram for a better view). The latter required Intel to construct an entirely new interface to replace its previous QuickPath Interconnect — the means by which a CPU "talks" to memory and other system components. A new ring bus will deliver up to 96 gigabytes per second of bandwidth for every core, and connect said CPU cores to the GPU, cache, and the system agent (analogous to an on-die North Bridge).
Intel's second-generation Core processors will come in two- and four-core variants. Hyper-threading is still present; it's the process by which one physical CPU core is split into two virtual CPU cores of-sorts. Turbo Boost is back as well, but it's been kicked up a notch from Nehalem's designs. Not only can all four cores receive an automatic overclock depending on your system's workload, but the CPU will actually push past the rated thermal design power (TDP) of the chip itself for brief periods of time. The technological wisdom is that a CPU can get away with a bit of over-overclocking before it has to back off at the TDP limit — the CPU doesn't immediately jump up to said limit, for example, if the cores get clocked up to extreme amounts.
Those opting to use Intel's built-in CPU/GPU combination instead of a discrete graphics card will also be treated to enhanced video decoding and encoding capabilities as a result of the chip's built-in media processor. But just how much has Intel's fixation on fixed-function processing boosted its video capabilities? A demo at this year's Intel Developer Forum featured a three-minute 1080p source video converted to a 640-by-360 iPhone video in around 14 seconds-or roughly 400 frames per second.
New vector extensions built into Sandy Bridge CPUs-dubbed AVX, or Advanced Vector Extensions-should increase floating-point performance for tasks like video and photo processing, as well as certain financial applications. In essence, AVX's 256-bit vectors–double those of its predecessor instruction set, Streaming SIMD Extensions or "SSE"-will allow your system to crunch more data by grouping it together in larger chunks. And that directly correlates to the power efficiency of the chip itself. In order to actually benefit from AVX however, consumers will have to be running Windows 7 SP1. Expect to see the update hit sometime in the first quarter of 2011.
The full details on Sandy Bridge's performance are still under wraps, but CES 2011 is looming over the horizon, and a few vendors are getting the party started a bit early. For a look at how Intel's second-generation Core processor performs for work and play, stay tuned to our coverage!