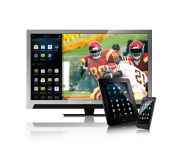 Vizio got a jump start on its competition today by announcing its plans for mobile devices before the Consumer Electronics Show officially starts in Las Vegas this week. The company–known for its ability to deliver quality HDTVs at reasonable prices–introduced an Android phone, and an Android tablet. Both will be shown at CES in the coming week.
While Vizio did not say which version of Android it plans for these devices, given the targeted late second quarter/Summer 2011 release date, it's likely that one or both devices will have Honeycomb, the much-talked about next-gen Android OS that will, among other things, bring tablet support into focus. Both devices will have full Google Android Market support, though.
Vizio's strategy is an interesting one, and it makes total sense for a company that's already invested in an app platform. At CES 2010, Vizio announced it was extending its Vizio Internet Apps (VIA) platform to nine HDTVs and to its Blu-ray player, and it had plans to grow the platform beyond the early apps (which include the ubiquitous Netflix streaming). The VIA platform was originally based on Flash and Yahoo Widgets; the latter was the first major initiative to bring apps to HDTVs, but it has fizzled over time.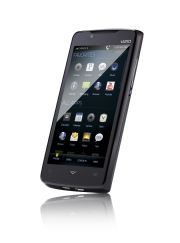 Fast forward to CES 2011: This week, Vizio will show its updated VIA platform, which will now be based on Google TV, and will extend support to other devices, too, including the forthcoming VIA Tablet and VIA Phone. Both devices will feature Android, with the VIA Plus user interface overlay on top of the Android operating system. Clearly, Vizio's strategy isn't to target Android purists; instead, the company aims to develop a unified and common user interface across devices.The company says the VIA Plus interface was created with the intention of it being scaled from handheld devices to 55-inch HDTVs.
The bigger endgame? Not only will you get a common interface, but you can expect to use either mobile device as a universal remote control; Vizio says it will support up to 90 percent of consumer electronics devices through the built-in IR blaster on the phone and the tablet.
At launch, Vizio was not specific about what the new platform means for apps written in Flash or for the Yahoo Widgets universe. Nor was the company uber-specific on the specs. But what follows is what we already know.
The VIA Phone packs a 3G antenna, 1GHz processor, and a 4-inch capacitative touchscreen with 480 by 854-pixel resolution. It will have an accelerometer, GPS, microSD card slot, a front-facing camera for video chat, a 5-megapixel rear camera with flash for photos and HD video capture, and mini-HDMI jack for outputting 720p HD video. The phone's dimensions will measure 2.4-by-4.8-by-0.5 inches, and it will weigh 0.26 pounds.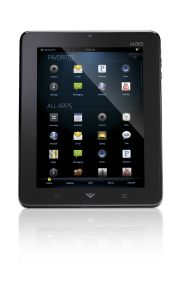 The VIA Tablet also packs a 1GHz processor (like the phone, the CPU's source remains a mystery for now). The Tablet has an 8-inch, 1024 by 768 capacitative touchscreen, which puts it at the same resolution as the current Apple iPad. You'll also get 802.11n Wi-Fi, an accelerometer, GPS, 2GB of internal storage,front-facing camera for video chat, and a microSD card slot for additional storage.
It also has a Micro-USB port, and, uniquely (for now), it has three speakers for delivering stereo audio no matter what orientation you hold the tablet in. That's actually an important point–many tablets have their speaker(s) in one spot, and the sound is either blocked or directionally off depending upon how you hold the tablet. The Tablet will measure 6.5-by-8.2-by-0.5 inches (the same thickness as iPad and Samsung's Galaxy Tab), and it will weigh 1.2 pounds (less than iPad, more than Galaxy Tab).
Given these products' release date is still a ways out, it's not surprising that Vizio didn't announce pricing or carrier plans (or whether the tablet will be sold sans carrier). But given the company's history of delivering products at a value price, I'd expect Vizio to be one to watch.