Apple's iPhone still has the largest share of the U.S. smartphone market, but mobile devices based on Google's Android operating system are gaining fast.
According to data collected in November by The Nielsen Company, the iPhone has 28.6 percent of the market, compared to 25.8 percent for Android. But the story doesn't stop there. Among recent acquirers of smartphone, 40 percent chose Android over all other brands.
The third player in the market, Research in Motion's BlackBerry platform has a 26.1 percent market share, which would make it number two in the standings, or maybe not. "Its share…puts it within the margin of error of both Apple iOS and Android," Nielsen notes in its blog. "In other words, RIM remains statistically tied with both Apple for first and Android for third."
"Apple's clear lead over Android notwithstanding, this race might be too close to call," the research firm adds.
Statistically tied or not, the Nielsen numbers show that the BlackBerry's share of the U.S. smartphone market steadily declined from June to November of last year, to 26.1 percent from a lofty 33.9 percent. Meanwhile, the iPhone's gains were practically flat, rising to 28.6 percent in November from 27.9 percent in June. Android, on the other hand, burned chrome during the period, grabbing 25.8 percent of the pie in November from a 15 percent share in June.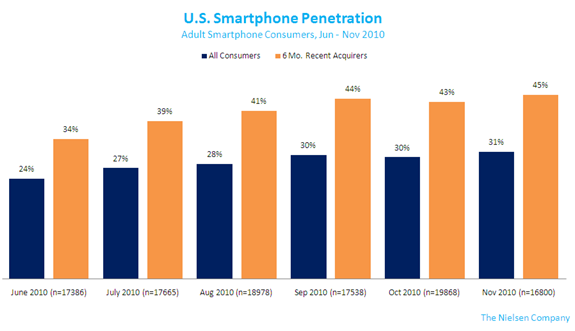 Consumer interest in smartphones also increased during the timeframe, according to Nielsen. Its numbers show that only 34 percent of new cellphone buyers were interested in smartphones in June. That jumped to 45 percent in November.