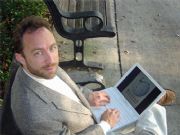 No longer will an image of Wikipedia Founder Jimmy Wales stare intensely back at you when browsing the free encyclopedia, for the site has reached its latest fund-raising goal in record time.
Wikipedia raised more than $16 million in 50 days, the Wikimedia blog said. The site collected 500,000 donations from people in 140 countries, with an average donation of $22 each. The news comes 15 days before Wikipedia celebrates its 10th birthday.
"It's so important that we kick the year off just like this: by fully funding the Wikimedia Foundation's budget to support Wikipedia and all the sister projects as we head into the next decade of our work together," Wales wrote in a thank-you message.
Wales' face had graced the top of many Wikipedia pages throughout the fundraiser, along with the message, "Please read: A personal appeal from Wikipedia founder Jimmy Wales." The banner actually proved to be quite popular in soliciting donations, despite the occasional parody, beaten only by a message that read, "If everyone reading this donated $5, our fundraiser would be over today. Please donate to keep Wikipedia free."
Donations fund bandwidth, servers, maintenance and development, along with salaries for Wikipedia's 50 paid employees. The non-profit site refuses to support itself with advertisements and is, of course, still taking donations.
Although support from Wikipedia users was strong for this year's fundraiser, that's only half the equation. Wikipedia relies on more than 100,000 active volunteers to maintain its encyclopedia pages. That can be troublesome as editors come and go. Earlier this year, the site rolled out some major behind-the-scenes changes to make editing easier. No word from Wales or Wikipedia on how its volunteer numbers are holding up.