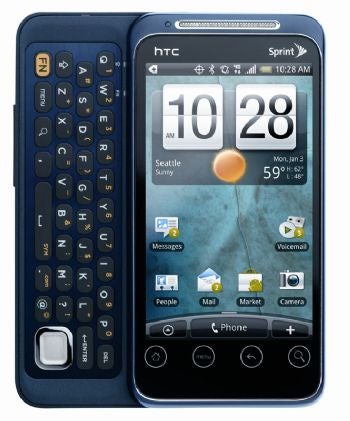 The tidal wave of 4G phones at CES is just beginning with this morning's launch of the HTC EVO Shift 4G from Sprint. The follow-up to last year's popular HTC EVO 4G, the first 4G phone on Sprint's WiMAX network, sports a full QWERTY keyboard, runs Android 2.2 and supports HD video capture.
HTC EVO Shift 4G will be available on January 9 for $150 from Sprint as well as from all Best Buy and Best Buy Mobile stores, and online at www.bestbuy.com/mobile. Best Buy Rewards Zone members can purchase their device on January 6.
The EVO Shift 4G doesn't have the large 4.3-inch display like its brother. Instead, it has a 3.6-inch display, which might seem like a downgrade to some. In my opinion, it actually makes a lot more sense however, given the extra bulk needed for the keyboard. The phone would simply be too large to accommodate for both. A real downgrade, however, is the lack of a front-facing camera. In my opinion, that was one of the biggest draws of the original EVO 4G.
The EVO Shift 4G is powered by an 800 MHz processor and 512 MB of RAM. This seems a bit slow when compared with the upcoming dual core-powered phones we'll see at the show (LG's Optimus 2x, for example). The processor is the next-generation Qualcomm Snapdragon, however, and in other phones we've tested. And hopefully, the EVO Shift 4G will be updated to Android 2.3 sooner rather than later, which should undoubtedly improve its performance overall. Like other Sprint 4G phones, the Shift 4G comes with Sprint's Mobile Hotspot, which lets you connect up to eight Wi-Fi enabled devices.
The EVO Shift 4G is just the first of many 4G devices we'll see at CES this year. Verizon is expected to launch a slew of LTE phones from a variety of manufacturers (LG, Motorola, and HTC) at their press conference Thursday. Alongside the EVO Shift 4G, Sprint also released the MiFi 3G/4G Mobile Hotspot by Novatel Wireless . The MiFi debuts on Feb. 27 for $50.
See our CES 2011 topic center for more news from the show.