With a new, cool variation on the Android tablet game, Lenovo Tuesday announced a duo of devices that can act as both an android tablet and a Windows 7 Laptop. Lenovo's LePad Slate is a 10.1-inch Android tablet that, when locked into Lenovo's Ideapad U1, transforms into a fully functional laptop running windows 7.
The LePad runs Android 2.2 off one of Qualcomm's 1.3GHz Snapdragon processors and has WiFi, WCDMA and 3G connection options to keep you online at all times and comes pre-loaded with a suite of applications and has access to more programs through Lenovo's Android App store. In addition to the 10.1-inch, 1280-by-800 screen, the whole thing comes in four colors including white, scarlet and black and brown leather.
If an Android tablet doesn't have enough juice for you, however, then you can simply dock the LePad into the U1 base for a full keyboard and the extra horse power of a 1.2GHz Intel CULV processor. The Ideapad U1 has a Hybrid Switch feature that lets you switch from Android over to Windows and back without even losing the Webpage you were looking at.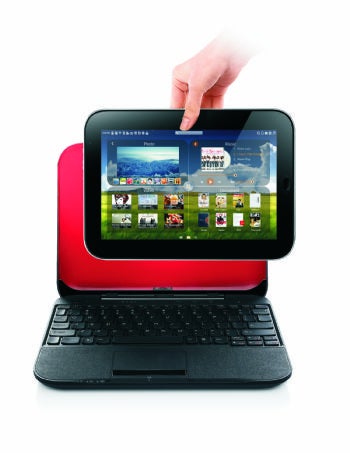 Both devices should be available by the end of Q1 beginning with a roll out in china. The LePad by itself starts at around $520 and the tablet with Ideapad U1 hybrid base will set you back around $1300.
See our CES 2011 topic center for more news from the show.