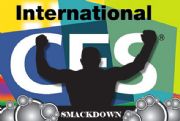 Call it the desert showdown royal. This week at the 2011 Consumer Electronics Show in Las Vegas heavyweight tech firms will battle to out shine, out announce, and out buzz their competitors. This year's contenders include makers of mobile apps, tablets devices, 4G gizmos, 3DTVs, and set-top boxes. Each will duke it out on the show floor.
Read on to find out which matchups will be the hottest and who has the most skin in the game.
Mobile Apps Showdown
Title on the Line: App-Tastic
Contenders: DriveSafe.ly, IDEAL Item ID, Line 2, ooVoo Multiple Chat, Pageonce, QuickOffice, Twonky Mobile, SwiftKey, WebMD, "mystery app"
Breakdown: For the second year in a row at CES, mobile app developers will square off against each other to have the tradeshow's most celebrated app. Ten finalists have been chosen to each present their wares in a four-minute presentation on January 8 before a live audience. After the presentations are done, the audience will vote to crown the victor. Check out the detailed list of mobile app competitors here.
Slated For Success
Title on the Line: iPad Killer 2011
Contenders: Research in Motion, Toshiba, Vizio, Asustek, Motorola, Notion Ink, Acer, Samsung, Nokia, Asus, MSI, Hewlett-Packard, Neofoni, Onkyo and Lenovo
Breakdown: It's a mix of heavy hitters and nobodies for this year's tablet battle. RIM will talk up its PlayBook; Samsung is rumored to be showing off a second-generation Galaxy Tab; Asustek has a slate with a slide out keyboard; Notion Ink may try to recapture CES 2010 glory with its unreleased Adam slate; and HP is expected to flaunt a WebOS tablet. It's tablet-palooza at CES 2011.
4G Force
Title on the Line: Wildest 4G speed claims
Contenders: HTC, Verizon, Sprint, T-Mobile, HP
Breakdown: The 4G marketing hype is over, the networks have been deployed and now it's time to see which carrier has the best next-generation wireless speeds. Verizon is expected to announce a number of Android-based 4G phones for its new network. Rumored phone manufacturers include Motorola and Samsung. More devices are expected to debut for Sprint's WiMax network and T-Mobile's HSPA+ network. HTC is teasing a 4G phone announcement on January 6, and HP recently announced a 4G friendly netbook that may run on Verizon's LTE network. But will 4G networks live up to the hype promising super-fast Internet speeds?
WebTV Rasslin'
Title On The Line: Cable Snipper
Contenders: Microsoft, Vizio, Yahoo
Breakdown: Google reportedly doesn't want its Google TV platform shown off at CES 2011. But that won't stop Vizio from debuting its new VIA Plus Internet TV apps featuring Google TV during the annual tradeshow. Microsoft is rumored to be launching a new Windows-based set-top box featuring Windows Media Center, and there are bound to be a few HDTVs with Yahoo Internet Widgets at CES.
3D Throwdown
Title On The Line: Eye Popper
Contenders: LG, Toshiba, Vizio
Breakdown: Just like 2010, every major HDTV manufacturer will be showing off their latest 3DTV wares. But as PC World's Patrick Miller explains in this video can manufacturers come up with a substitute for active shutter glasses? Toshiba is trying with a new glasses-free 3DTV and others may soon follow suit. Meanwhile, LG may debut a 3D mobile TV in Las Vegas. But one of the most hyped 3D products of 2011, the Nintendo 3Ds, won't appear at CES. Nintendo is expected to launch the new 3D glasses-free portable gaming device during its own press event in January.
Celebrity Showdown
Title On The Line: Paparazzi Popper
Contenders: 50 Cent, Adrien Grenier, Common, Olivia Wilde, Kevin Pollak, Aiden Turner, Piers Morgan
Breakdown: CES has just announced its celebrity line-up at CES 2011. Hip Hop artist 50 Cent will host a press conference with Sleek Audio on Thursday. Lara Spencer host of The Insider on CBS will interview actors Adrian Grenier (HBO's Entrourage), Common (American Gangster), Olivia Wilde (Tron: Legacy), Kevin Pollak (The Usual Suspects) and CNN host Piers Morgan. All My Children star Aiden Turner will show up at the booth for Ty, makers of a geolocation device to help you locate important household items. Retired NBA star and sportscaster Bill Walton will be at Haier's CES booth, as will NBA player turned actor Rick Fox (Ugly Betty).
Only a few days until CES starts, who do you predict will come out on top this year?
Want more CES coverage? Check out PC World's CES 2011 page with all the tech news and analysis you'll need to stay informed about this year's tradeshow.
Connect with Ian Paul (@ianpaul) and Today@PCWorld on Twitter for the latest tech news and analysis.