I just love it when I come across a Web site or download that solves a problem I didn't know I had. Take Just One Club Card for example: Visit the site, enter barcode numbers for your reward cards, and get one big card that contains all the info. No more juggling cards! And since Drop.io closed down, I've been fishing for another good way to share huge files: Enter Crate. Finally, something that's maybe more fun than useful: AeroWeather changes your Windows desktop colors to reflect the weather conditions outside. Sound interesting? Read on for links and details.
Create a Single Card for All Your Reward Cards
You know all those reward, membership, and club cards cluttering up your wallet? What a hassle. Wouldn't it be great if you could magically combine them onto a single, space-saving card?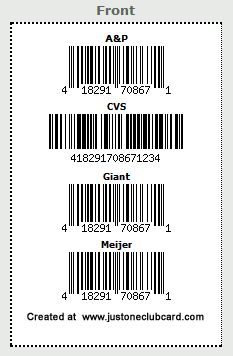 You can: just pay a visit to Just One Club Card. True to its name, this Web service creates a printable double-sided barcode card for up to eight different stores.
All you do is enter the barcode number for each of your existing cards, then choose the corresponding store. The site has listings for nearly 200 stores, and if there's one you don't see, you can e-mail the site's creator to get it added. Note that a few stores, like Blockbuster, are left off on purpose, as the barcode is also your account number. As the developer notes, "best not to be shooting those around the Internet." In other words, he takes security seriously.
When you're done, just click Create your card. You'll see the completed product, which you can then print, cut, fold, and stick in your wallet. If you really want to get fancy, laminate it.
I love helpful sites like this. The only wrinkle is that more and more of my membership cards use magnetic strips instead of barcodes. But those that do have barcodes are headed straight for the trash can (or at least the file drawer).
Quickly and Easily Share Large Files With Crate
Looking for a fast, no-fuss way to share big files with friends or family members? Until recently, your best option was Drop.io. Alas, the service shut down earlier this month, having been purchased by Facebook for an as-yet-unknown fate.
I've yet to find the perfect replacement, but Crate comes close. Like Drop.io, it gives you a dedicated repository for the files you want to share and a unique URL with which to share them. Instead of "drops," you build "crates."
It's literally a two-step process. First, you do is drag one or more files to the crate image on the site. Second, when the upload is done, you copy the provided URL and e-mail it to whoever needs the files. Can't get any easier than that.
You don't even have to register, but there's incentive for doing so: unregistered crates expire in 30 minutes, but if you have an account, they last indefinitely.
A free Crate account lets you store up to six crates, each with an individual-file size limit of 50MB and a total space limit of 200MB. A Pro account ($9 monthly) nets you unlimited crates and file sizes, with a storage cap of 2GB.
There are lots of other services that offer big-file sharing, but few match the simplicity of Crate.
Turn Windows Aero Into a Weather Monitor
Don't you hate having to look outside whenever you want to know the weather? Talk about a hassle!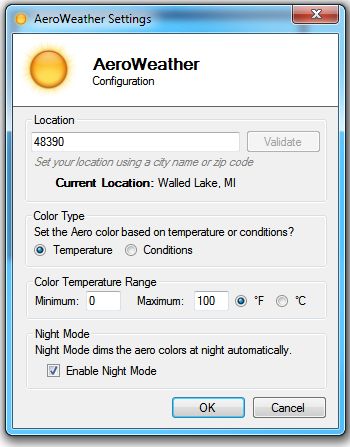 Freeware tool AeroWeather puts Windows Aero (the graphical interface introduced with Vista) to practical use, retrieving the temperature or current weather conditions for your location and changing the color accordingly. So, for example, if it's particularly cold outside, AeroWeather will fade your UI to purple. When it gets warmer, look for redder colors.
Personally, I prefer the condition-based color changes: white when it's snowing, blue when it's sunny, dark gray during rain, and so on.
AeroWeather doesn't mess with your wallpaper, fonts, or anything like that–it merely changes Aero's colors. Pretty nifty, don't you think?
The program is compatible with Windows Vista and 7, both of which must have Aero enabled. It also requires the .NET Framework 3.5 (which it will install for you if you don't already have it).
Note: The installer is called Setup.exe, which can be confusing. Learn how to rename Setup files so they're easier to figure out later.
If you've got a hassle that needs solving, send it my way. I can't promise a response, but I'll definitely read every e-mail I get–and do my best to address at least some of them in the PCWorld Hassle-Free PC blog . My 411: hasslefree@pcworld.com . You can also sign up to have the Hassle-Free PC newsletter e-mailed to you each week .