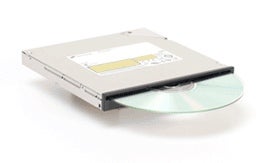 Can optical drives get new life? That's the idea behind Hitachi-LG Data Storage's concept of hybrid optical drives. First shown at Computex last June, Hitachi-LG Data Storage was showing its hybrid optical drive in action at Storage Visions today.
The concept was designed more than two years ago. While netbooks and thin-and-light notebooks have picked up steam in recent years, 80 percent of notebooks still use a DVD or Blu-ray drive, according to Luke Choi, business planning team leader at HLDS.
"By integrating flash into an optical disc drive, it gives customers the chance for another option to increase performance," notes Choi. "Our greatest value is that we're using a small amount of MLC, which costs less to consumers." The ODD drive shown at Storage Visions has 8GB of MLC flash integrated on-board the ODD printed circuit board. By having the SSD built-in, the firmware of the drive manages the SSD flash and the optical drive performance. And you can use that flash for hard disk drive cache, in what is called HDD Boost mode.
"What we're doing is similar to hybrid HDD, in that we are frequently caching hard disk drive data to the SSD portion-which saves the loading time of the hard disk drive files," explains Choi. The other advantage comes in the ODD performance itself, where the flash storage on the drive can be used to improve defect management and error correction by compensating for scratches and fingerprints on a disc.
Choi says it is possible to have 32GB, 64GB, or even 128GB of flash on-board the optical drive, and in that case, you'd be able to conceivably use the ODD's flash as your primary C: drive. However, to do so would be more expensive. The advantage to using hybrid ODD is that integrating 8GB of flash adds minimal cost, and it saves space by providing a flash cache without requiring an extra slot or drive bay.
While HLDS is aiming the drive at multimedia notebooks and home theater PCs, it's plausible to see the technology extending into home theater components, where it can smooth streaming performance from services like Netflix and Vudu.
OEM pricing today for an ODD is just $20; Choi believes the hybrid ODD can come in at a small premium over that, compared with the cost of buying a dedicated SSD drive. The performance boost you can expect in cache mode, can be up to 30 to 40 percent. Choi says the company is working on its third-generation technology to create a single-chip solution, and it's talking to OEMs now and is targeting availability for the technology in summer 2011.
Want more CES coverage? Check out PC World's CES 2011 page with all the tech news and analysis you'll need to stay informed about this year's tradeshow.