Just like last time around the big story at CES this year is tablets, but there's more than one reason to think this might really be the tablet's big year.
Forrester Research says tablet sales could double in 2011, to 24.11 million units, and estimates that by 2015, 82 million consumers-or one-third of U.S. users-will have a tablet. A Deutsche Bank analyst estimates Apple iPad sales alone could exceed 28 million units. While Apple hasn't announced its fourth quarter 2010 sales yet the company did say that in the third quarter of 2010 it sold 4.19 million iPads.
Rumor Mill
All of this news just sets the stage for a field that will be in flux throughout the year. A new Apple iPad is expected in just a few months, and Android's Honeycomb-centric tablet coming by summer per the rumor mill. At the CES show this week, we're expecting to see a deluge of tablets running everything from Windows 7 to Android, and even a handful of Linux-based models. We also have news today that HP will be hosting a WebOS event in February, and rumors put the RIM PlayBook tablet shipping date sometime in March.
As my colleague Jared Newman noted not all of the tablets shown this week will be winners. In fact, that's the one thing that's a safe bet. Already, plenty of tablets are for sale from respectable vendor names, vaguely named companies selling factory-direct from China, and even from vendors touting tablets as e-readers and multipurpose devices. Of those, only the Samsung Galaxy Tab has really made a mark as a possible competitor to Apple's iPad.
The integration of software and hardware to provide a consumer experience is what has traditionally set Apple apart from the rest of the crowd. This week we're sure to see more comers trying to do the same.
At the end of the day, throwing down a touchscreen on a half-inch thick chassis with a CPU and other components inside and a few ports on the perimeter, that's not going to be too hard for companies large and small to do. What will be hard is presenting the package in an appealing, integrated, and consumer-friendly fashion, and doing so in a way that makes tablets accessible to everyone from the layperson who barely can figure out Gmail to the tech-savvy folks who understand what it means to root their device's operating system (and that their device has an operating system).
Tablets: The Talk of the Town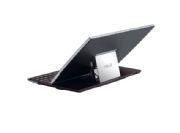 Yet these aren't the only reasons I posit that this time the tablet movement might actually stick. It's also because I've spent much of the day at the Storage Visions conference, which precedes the CES show here in Las Vegas. At session after session, it became clear that tablets were the talk of the town.
Storage industry discussions invariably turned to tablets, and pointed to them as a disruptive category that will impact both flash storage (an estimate I heard said 12 percent of the total NAND flash capacity will go to tablets), and hard drives (one speaker posited that hard drive demand could decline as tablet demand grows).
This year's tablet spike was felt even at a storage conference. Now that shows the makings of a revolution at-hand.
Check out PCWorld's complete coverage of CES 2011.