If you can figure out how to use it, the acrobatic GorillaMobile Ori iPad stand from Joby could suit all your needs.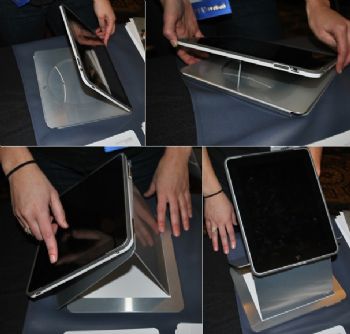 The Ori Pad folds successively from one position to the next, starting with a flat case that shields both sides of the iPad with aluminum. Flipping open the top cover, which has microfiber on the opposite side, lets you use the tablet without a stand. Lifting up the iPad from one end reveals a tiny kickstand that provides a slight incline for typing. After that, the other end of the case folds up to reveal a large stand, which opens up to hold the iPad at roughly a 45-degree angle. Finally, the iPad lifts up again into a tall, upright stand, on which the iPad can be rotated between portrait and landscape modes.
Like I said, complicated but flexible.
The Ori Pad is built mainly of polypropylene plastic sandwiched between thin sheets of aluminum. This keeps the weight to roughly one pound (the iPad itself weighs 1.5 pounds) and for good reason: The case isn't particularly easy to slip off, so Joby hopes it'll act as your permanent iPad cover. I was surprised with how light the whole package felt, but it's still considerably bulkier than a bare tablet.
The Gorilla Mobile Ori Pad is available now for $80 at joby.com.
See PCWorld's full CES 2011 coverage for the latest from the show.