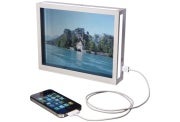 Pairing fashion with function, the Parrot DIA Digital Photo Frame has a slick, minimal design yet a hefty $500 pricetag. Designed by the nodesign agency of Paris, the DIA is designed to look like a photo lightbox. The 10.4-inch frame gives the illusion that the photo is disconnected from the frame.
But this frame isn't just fashion and fluff: It also provides a number of ways for easily getting your photos on the frame. You can transfer your videos using the Mover Lite iPhone app, which lets you select pictures and send them to the frame by simply flicking your finger on your iPhone's screen. Oddly, even though the frame is Android-based, there is no Android Mover Lite app available at launch.
You can also e-mail photos to the frame as well as link it to your Flickr, Facebook or Picasa accounts. You can also transfer photos from your PC via Bluetooth or hook it up to your PC and drag-and-drop photos directly onto it.
The DIA will be available from select department stores, specialized retailers and on www.parrotshopping.com for 500 USD. Unfortunately, we didn't get a chance to see the DIA at CES Unveiled, but the company will be showing the frame in its booth on the CES Showfloor. Stay tuned for a hands-on in the next few days.
Check out PCWorld's complete coverage of CES 2011 .