Good news, everybody–you don't have to wait for Apple to approve Intel's new Sandy Bridge processors before you can run Mac OS X on the new CPUs. Intel's Sandy Bridge CPUs and chipsets are barely out of the gate, but that hasn't stopped some users from installing Mac OS X Snow Leopard on the new Sandy Bridge LGA Socket-1155.
MacMan and tonymacx86 of the tonymac86x blog have not only installed Mac OS X on the new chipset, but they've alsouploaded instructions so you can hackintosh away.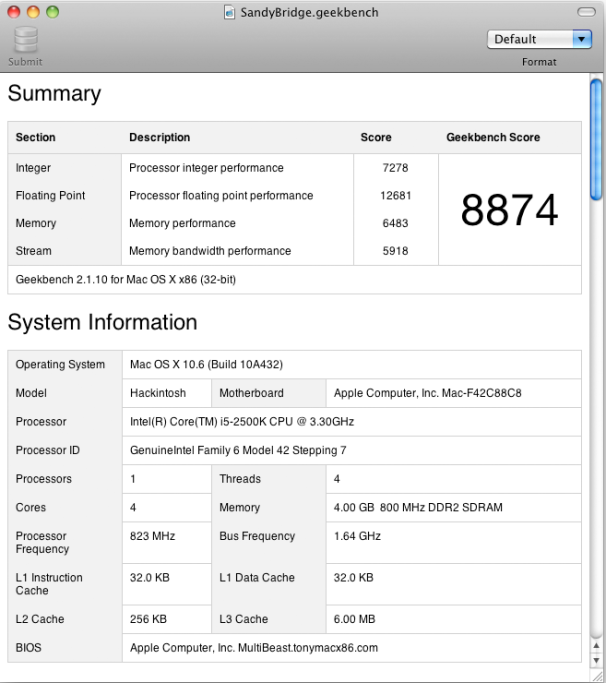 The process involves using a "patched non-standard Darwin kernel" to boot the system, and the tonymac86x blog warns that this is not a long-term solution. In other words, it's not a quick or painless hack. However, for early adopters who want to try it out, the blog has opened a special forum section specifically for Sandy Bridge.
Intel's Sandy Bridge processors, first announced at the 2010 Intel Developer Forum, feature improved graphics, energy efficiency, and better overall performance. The line is made with Intel's new 32nm microarchitecture and will be the first integrated graphics processor to allow both HD video streaming and 3D video playback support.
Those of you who are bold enough to try out the hack, let us know how it works for you in the comments!
[tonymacx86 via Engadget]
Like this? You might also enjoy…
Follow Sarah on Twitter (@geeklil) or at sarahpurewal.wordpress.com