I'd file the Cinemin Slice under the heading of Cool, but Limited. This dock for iOS devices contains a pico projector. Pop in your iPad, iPhone or iPod and the Slice will project video from the device as large as 60 inches diagonally across.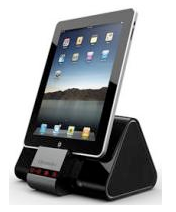 I saw a demo of the Slice in a crowded exhibition hall at CES Unveiled tonight. Since there was no way to darken the room, the folks from Cinemin projected in a 3-foot long cardboard tube. So obviously, not ideal conditions. Still, the image the Slice projected seemed a bit soft and the colors bled into one another. Whether it would do better in a darkened room is hard to know.
But for a one-trick pony, the Slice doesn't come cheap: $430. If you're really committed to using an iOS device for all your video needs, that may make sense. Otherwise, it might make sense to spend your money on a more versatile projector.
Here's a short video showing the Cinemin Slice in action.