Micro-Star International (MSI) on Tuesday unveiled some of the first laptops and motherboards with Intel's latest microprocessor family, formerly codenamed 'Sandy Bridge,' on board.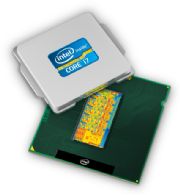 The Taiwanese electronics maker debuted 16 new laptops in all, including a gaming series that uses Intel second generation Core i7 processors, the MSI GT780, GT680, GE620 and GR620 notebooks.
The G-series laptops all boast USB 3.0, as do all MSI products based on the second generation Core processors. They also have on-board speakers from Dynaudio and the MSI Turbo Drive Engine for overclocking. The laptops are all designed for computer game lovers.
MSI G-series laptops will be priced at US$1,000 and above, the company said.
One of the best laptops in the G-series, the GT680, has a 15.6-inch screen, DirectX 11-ready Nvidia GeForce GTX 500 Series and 400 Series graphics cards, as well as Dynaudio speakers. The device will ship in January for a base price of $1,499. A larger version of the same laptop, the GT780, with a 17.3-inch screen, will ship in the second quarter of this year.
MSI's F-series laptops are aimed at consumers, businesses and other people interested in performance. The laptops come in a range of screen sizes and either second generation Core i5 or Core i7 processors. Laptops in the F-series will retail for between $700 and $900.
The company's C-series, made for mobility with long battery life and quick battery recharge technology, will retail for between $500 and $700 each.
MSI also debuted 11 motherboards designed for use in PCs made for Intel's second generation Core chip family. The motherboards all use Intel's P67 chipsets.
One noteworthy product MSI opted to leave out of its opening CES news conference was tablets.
The company will show off its tablet PC offerings for this year at its booth at CES, MSI officials said. The company will launch 5 tablets made with Google's Android mobile OS or Microsoft Windows online.
Dozens of other companies plan to launch tablet PCs at this year's CES. Asustek Computer, the company's rival in the U.S., unveiled four tablet devices on Tuesday, including three tablets with Google's mobile software on board and one Windows tablet.
Check out PCWorld's complete coverage of CES 2011.