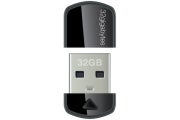 Quick: What stores up to 128GB, supports file encryption, and fits in your pocket? Why, Lexar's newest flash drives. Lexar's Echo MX and the ZX backup drives announced at CES 2011 are designed to automatically back up files when you are on the go, and support 128-bit AES encryption, making them good for netbook and notebook users.
The Echo MX comes in 8, 16, 32, 64, and a massive 128GB, and offers between read speeds between 28MB/s and 32MB/s, as well as write speeds ranging from 10MB/s to 17MB/s. The MX also offers an always-on capacity meter that shows how much free space is available, even when the drive is not plugged into your PC. The MX is the size of a normal plug-in flash drive. The ZX offers performance speeds of up to 28MB/s read and between 10MB/s and 15MB/s write. The drive is also extremely small, fitting just over the USB port.
Both drives allow automatic backup of files without needing to constantly update. The MX offers a five-year warranty and the ZX a two-year warranty. Both drives work with PCs and Macs. There is no word on the price of the drives yet.
While we haven't gotten our hands on these new flash drives, they definitely do sound promising.
Like this? You might also enjoy…
Follow GeekTech on Twitter or Facebook, or subscribe to our RSS feed.