The iPad 2 has landed at the Consumer Electronics Show. Well, not really but a purported iPad 2 aluminum mockup inside a new iPad 2 case has. Mobile accessory maker Dexim is hoping to get a jump on its competitors by showing off a case it believes will fit the specifications of the next iPad. The case features a rear-facing hole for a camera and a space on the back for a speaker similar to other iPad 2 cases popping up online. The iPad 2 mockup that fits inside Dexim's case is thinner than the original iPad and its home button is placed closer to the bottom edge of the device, according to Engadget.
The new case is also interesting since it features a Bluetooth keyboard that uses magnets to connect to the front of the iPad sleeve. The result is a clamshell-style setup so you can operate your iPad and keyboard like a laptop.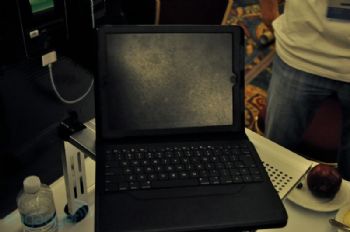 But Is It Genuine?
While the case looks interesting, and it appears to follow the design specifications other case makes are following, is it the real thing? Remember, it's not unheard of for accessory makers to create mockups for nonexistent Apple products. In late 2008, case makers XSKN and Vaja were showing iPhone Nano cases on their websites leading up to Macworld Expo 2009. Unfortunately for them, their gamble didn't pay off since the mini-iPhone Nano never materialized.
Of course an iPad 2 debuting in 2011 is more likely than an iPhone Nano launch was in 2009, but it's pretty clear that case makers can be wrong. Until Apple reveals the next iPad there's no guarantee that any of these iPad 2 cases will fit the rumored device.
Apple is expected to announce a second version of its tablet device in the coming weeks. Current rumors suggest the device will be thinner and lighter, have a front-facing camera for FaceTime video chat, a rear-facing camera, and a higher-resolution display.
Want more CES coverage? Check out PC World's CES 2011 page with all the tech news and analysis you'll need to stay informed about this year's tradeshow.
Connect with Ian Paul (@ianpaul) and Today@PCWorld on Twitter for the latest tech news and analysis.