Online matchmaker Match.com is being sued by some its former users for forcing them to pay for access to expired dating profiles or bogus profiles posted by spammers. According to a class-action complaint filed in federal district court in Dallas, as many as 60 percent of the profiles posted at the site are inactive or belong to fake or fraudulent users, the Dallas Business Journal reported.
The service makes no effort to remove inactive accounts from its profile database, the 19-page complaint alleges. "Match takes virtually no action to remove these profiles … for months and sometimes years after the individuals have become inactive," the complaint said. "And, Match will only remove profiles after a former subscriber calls to complain and specifically requests its removal."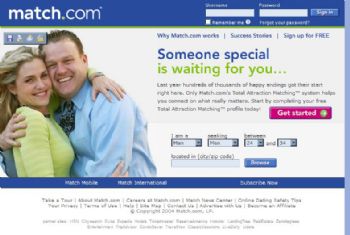 The complaint says a laissez faire attitude has been adopted by the service toward phony profiles posted on the system. "Match likewise makes little to no effort to vet, police, or remove these profiles and thereby permits, condones, and acquiesces in their posting," the complaint asserted.
"The effect of these deceptive practices was to mislead Plaintiffs and other members of the Class into believing that millions of individuals were active members and further exposed Plaintiffs and members of the Class to frauds and other schemes," it added.
Interviews conducted by the plaintiffs' attorneys with former Match employees revealed other alleged sketchy practices by the dating service.
For example, although Match tells applicants that their profiles receive an "eyes on" review by the service, that's not the case. "[N]ew profiles are approved and posted almost instantaneously, illustrating that the approval process is mere window dressing to further deceive users into a sense of security," the complaint said.
It also maintained that many of the photos included with phony profiles are of pornographic actresses and models stolen from other websites.
Not only does Match use inactive and bogus accounts to artificially inflate active participation at the site, the complaint asserted, but to misrepresent the gender ratio at the site, which is "heavily skewed toward single males."
Match also uses deceptive practices to get members to renew their subscription, the complaint alleges. It said that when a subscription is about to expire, members receive a "wink" that an active member wants to contact them. As a condition of making that contact, the member has to renew their subscription. After renewal, the profile of the winker either disappears or is discovered to be inactive.