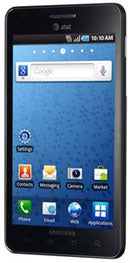 How big can a smartphone's display get before it becomes a tablet? AT&T and Samsung are pushing the limit with the Samsung Infuse 4G, a smartphone running on AT&T's HSPA+ network with a 4.5-inch display.
The Infuse 4G sports the company's Super AMOLED Plus technology, the next generation of Super AMOLED, a super-thin display which produces gorgeous colors and high visibility indoors and out. It has 50 percent more subpixels for better clarity and readability outdoors, according to Samsung. (I'm a big fan of Super AMOLED and was disappointed when the Samsung Galaxy Tab didn't use it.)
The Infuse 4G is powered by the older Android 2.2 and runs on a 1.2GHz processor. Other enticing specs include an 8-megapixel camera with HD video recording, and a front-facing 1.3-megapixel camera for video calls.
AT&T did not announce availability or pricing, but we will definitely get our hands on it this afternoon so stay tuned for pictures, video and first impressions.
This post has been updated to describe Super AMOLED Plus technology.
Check out our complete coverage of CES 2011.