With its major competitors talking the talk and walking the walk on 4G, AT&T gave the first signs today that it's feeling pressure to get its own 4G network started and completed in a hurry. Until now, AT&T has talked mainly about continuing on with its HSPA+ network and moving only gradually toward 4G LTE.
Speaking at a developers summit here at CES today, AT&T execs said they have moved their target completion date for the 4G network up to the end of 2013. AT&T tested 4G LTE technology in 2010, and plans to begin lighting up the new network by the middle of this year.
AT&T is also moving quickly on 4G devices. The carrier says it will launch two 4G smartphones-the Motorola Atrix 4G and the HTC Inspire 4G–in the first quarter of this year. Another phone, the Samsung Infuse 4G, will arrive later.
This is interesting because AT&T will have no 4G network by that time, so the carrier is obviously doing the T-Mobile trick of calling its HSPA+ network a "4G" network.
From the AT&T FAQ page: "4G speeds require a 4G device and are delivered when HSPA+ technology is combined with enhanced backhaul." So the three new "4G" phones will run on the HSPA+ network, and not on the AT&T LTE network-not yet.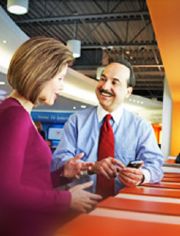 T-Mobile and AT&T are claiming that because HSPA+ service can generate speeds proximate with those of real 4G networks (WiMAX and LTE), they might as well be called 4G. The IEEE standards body may disagree with that definition, but do US consumers know the difference? Probably not.
AT&T says it expects to add between five and seven "4G" devices to its device stable by the first half of this year. That estimate includes the two 4G-enabled laptop cards it announced last year. The carrier says it expects to be selling more than 20 4G devices by the end of 2011.
It appears that AT&T has been feeling the pressure from its competitors, which have all been trumpeting their 4G capabilities.
Verizon launched its new 4G LTE network in 39 cities on December 5 of last year. Verizon is selling two 4G USB cards, but has announced no 4G phones yet (that may change very soon).
Sprint, with its WiMAX partner Clearwire, has already launched three 4G phones (with its new EVO Shift), and numerous other 4G-capable devices. The Sprint/Clearwire 4G WiMAX network is now available in 69 US cities.
T-Mobile has been advertising heavily around its growing stable of "4G" phones.
Even though AT&T's existing HSPA+ network (which the company says is now 100 percent deployed) delivers speeds equal to those of 4G networks in many markets, the company needs to assure its customers and investors that it's moving quickly toward this 4G thing everybody's talking about.
There's a 4G arms race going on, and it has caused AT&T to finally deliver the real 4G LTE roadmap many of us have been waiting to hear.
Check out our complete coverage of CES 2011.