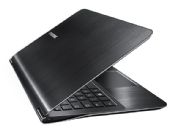 What's a Windows user to do if they covet Apple's super-slim new Macbook Air? You could always buy the Apple product, install Boot Camp and your own copy of Windows…or you could wait for Samsung's sleek new Series 9 ultraportable laptop.
The 13.3 inch Series 9 weighs less than three pounds, like the Air. It has a sleek metallic look, all black brushed metal. It's only .64 inches thick. And like Apple's latest superthin laptop, it's expensive: starting at $1,599 this spring.
What do you get for that money? The Series 9 is powered by a second-generation Core i5 2537M processor – a dual-core ultra-low voltage version of Intel's new "Sandy Bridge" CPUs that runs at 1.4GHz with turbo speeds up to 2.3GHz. It comes with 4GB of RAM, up to a 128GB SSD drive, 3 watt stereo speakers with a 1.5 watt subwoofer, and enough lithium polymer battery to allow Samsung to claim 6.5 hours of battery life.
Samsung has a few other tricks up its sleeve with the Series 9. The "Ultra Vivid" LED backlit display offers brightness up to 400 nits, a claimed 100,000:1 contrast ratio, and true 8-bit per component color (many laptop displays are 6-bit panels) with wide, 160-degree viewing angles. The company says its new lithium polymer batteries are good for twice the charging cycles of typical batteries – up to 1,000 charge/discharge cycles or about three years. Samsung offers multiple charging modes, like "Battery Life Extender" mode and "Express Charging" mode. They're not skimping on connectivity, either, with built-in USB 3.0, Bluetooth 3.0, WiMAX, and the latest Wi-Fi and USB Sleep & Charge technologies.
Intel's dual-core versions of the second-generation Core processors don't ship for another six weeks or so, so the 9 Series laptops won't be available until later in the first quarter of 2011. Stay tuned then for a full lab-tested hands-on review.
For more up-to-the-minute blogs, stories, photos, slideshows, and video from the nation's largest consumer electronics show, check out PC World's complete coverage of CES 2011.