The next generation of powerful smartphones is upon us. NVIDIA teamed up with LG this afternoon to demo the very first Tegra 2-powered phone. This LG Android phone supports 1080p HD video and offers console-quality gaming.
NVIDIA's co-founder Jen-Hsun Huang called the Tegra 2 a "mobile super chip" in part because it enables powerful multitasking and is designed for content consumption. This LG phone is designed for watching video and gaming in-hand with its textured, curved design. The 4-inch display is constructed with curved glass for multi-angle viewing. Angry Birds demoed on the phone looked brilliant and the videos shown appeared smooth and crystal-clear.
The LG "Super Phone," as NVIDIA dubbed it, has HDMI-out so you can watch videos from your phone on your HDTV. In the on-stage demo, video looked pretty good though it is difficult to evaluate its quality from a press conference demo.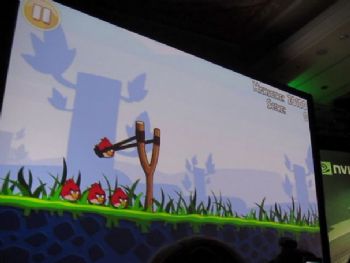 NVIDIA also demoed a variety of Flash-based apps, like the Autodesk Sketchbook. According to NVIDIA, the Tegra 2 speeds up Adobe Flash immensely on apps and on Websites. And the Tegra 2's enhanced mobile Flash processor not only has improved performance, but also has low power consumption.
Stay tuned for a hands-on of the Optimus 2X coming later today.
Like this? You might also enjoy…
Follow GeekTech on Twitter or Facebook , or subscribe to our RSS feed .