It's been typically busy in the world of x86 processors. Both Intel and AMD are showcasing their Sandy Bridge and Fusion processors at CES, but there's a third, smaller player in the x86 space: VIA. Known largely for its chipsets and motherboards, it too has announced a new CPU in the form of the Nano X2.
The company's first dual-core chip, the X2 is based on the single-core Nano chip launched in 2008. As such, it's 64-bit (x86-64), comes with support for SSE 4.1 multimedia instructions and includes virtualization add-ons. In fact, VIA is unapologetic about the fact the Nano X2 is little more than two Nano cores on the same die, made possible by a new 40 nanometer (nm) production process.
Notably, the Nano X2 has no shared cache, as with most dual-core chips, meaning that–despite the 40nm production process–the Nano X2 is more comparable on an architectural level with Intel's first dual-core offerings from way back when.
Unlike AMD's Fusion, the X2 lacks any integrated graphics processing, although outside of embedded uses such as handheld computers (assuming manufacturers decide to take up the chip), it will nearly always be paired with VIA's own chipsets, such as the VN1000 Digital Media Chipset, which features reasonably powerful 3D and video processing capabilities.
But the fact is that, compared to offerings by AMD and Intel, the Nano X2 isn't just a generation or two behind. It's practically last century.
However, the Nano X2 is designed to compete in another area: power consumption. Although no figures have been released for the X2, VIA says it consumes no more power than the older, single-core Nano, which ranged between five and 25 watts, depending on user demand. This is a fraction of that of mainstream x86 chips, but still potentially higher than the superior AMD Fusion. The Nano X2 will also compete against existing Intel Atom technology, and its older ultra-low-power Core 2 offerings.
So it becomes increasingly difficult to find anything to recommend the X2, outside of small multimedia computers and some netbook computers, where VIA chips have a modest fan base. However, the X2's slightly off-the-wall features might raise an eyebrow in the business computing arena.
For example, VIA's Padlock Security Engine boasts Quantum-based random number generation, and an Advanced Cryptography Engine (ACE) allows for ultra-quick on-chip RSA and AES computations.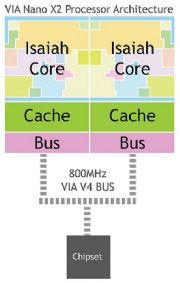 Combined with the low power profile yet x86 compatibility (meaning it can run Windows), plus virtualization extensions and the effective doubling of speed offered by dual-core, the X2 might prove curious for data center managers prepared to step off the Intel path, although VIA would have to follow up with motherboards that can accommodate multiple processors. If nothing else, the low power demands and small physical size of the chip should significantly reduce the need for cooling, which in itself is a massive expense.
Low-power computing in the server arena is a nascent area, likely to come to the fore in the next few years. Chipset designer ARM–more associated with mobile phones and handheld computing–has been eyeing up the space with 64-bit designs that are extremely power efficient compared to any x86 offering.
However, unlike VIA chips, ARM chips are not x86 compatible, meaning they can't run Windows, and non-mainstream versions of open-source software such as Linux have to be used.
Anybody creating server setups featuring heavy encryption should take a look at the X2's data sheet. Despite VIA's intentions, it might not be destined for life in netbooks and media centers. It would certainly be a mistake to write off X2 as another x86 wannabe.
Check out our complete coverage of CES 2011.
Keir Thomas has been writing about computing since the last century, and more recently has written several best-selling books. You can learn more about him at http://keirthomas.com and his Twitter feed is @keirthomas .