The Lenovo IdeaPad U1 hybrid notebook / tablet is making its second debut at CES this year. The concept has merit, but with a price starting at $1300, the device seems a tad underpowered and overpriced.
Have you ever gone to the International Auto Show and seen the futuristic concept cars that blow your mind? They are the center of attention at the show, but rarely–if ever–actually see production. Those concept cars are designed primarily as proof-of-concept cars for the engineers to experiment and figure out what works so they can apply those lessons to more practical models.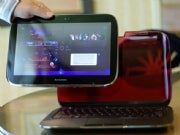 That is sort of how I see this Lenovo hybrid gadget. Tablets are more portable than notebooks or notebooks, and they can fill the role of mobile computing platform in many cases, but admittedly there are times when you want the higher horsepower and full keyboard that come with a "real" computer. Combining the two in a single device where the display is actually a detachable tablet is a cool, James Bond sort of trick enabling the option of using a tablet or notebook as the need arises.
When combined together, the IdeaPad U1 functions as a notebook PC running Windows 7 Home Premium. The notebook base has a 320GB hard drive, 2GB of RAM, an Intel 1.2 GHz Core i5-540UM processor, USB ports, and a full keyboard. When detached, the display operates as an Android tablet with either 32GB or 64GB of onboard storage. At $1300, though, it's a bit much to swallow for what you get.
The notebook stats are adequate, but not all that impressive–a notebook with comparable specs can be had for around $500. Meanwhile, an Android tablet with 32GB of storage–like the Archos 5–can be acquired for around $230. The ability to merge them into a single unit hardly seems worth a premium of nearly $600–almost doubling the investment.
There are also more affordable alternatives for tablet users that need that full keyboard experience. There are cases like the ClamCase or Zaggmate for the iPad which provide a notebook like form factor with a full Bluetooth keyboard for creating content on the Apple tablet. Those cases are only about $100 to $150, so a 64GB iPad with a notebook like case can be had for less than $900.
There is also the problem that plagues every all-in-one type approach. Having an all-in-one device is great until some aspect of it breaks and you learn that it's all for one and one for all. In this case, if the tablet breaks, the notebook is useless. There are some advantages to keeping your gadgets separate, but equal.
Maybe I'll be wrong and the IdeaPad hybrid concept will catch on and become all the rage for the emerging tablet market. But, I highly recommend holding off and waiting to see the reviews and feedback from other users for a few months before risking the purchase.